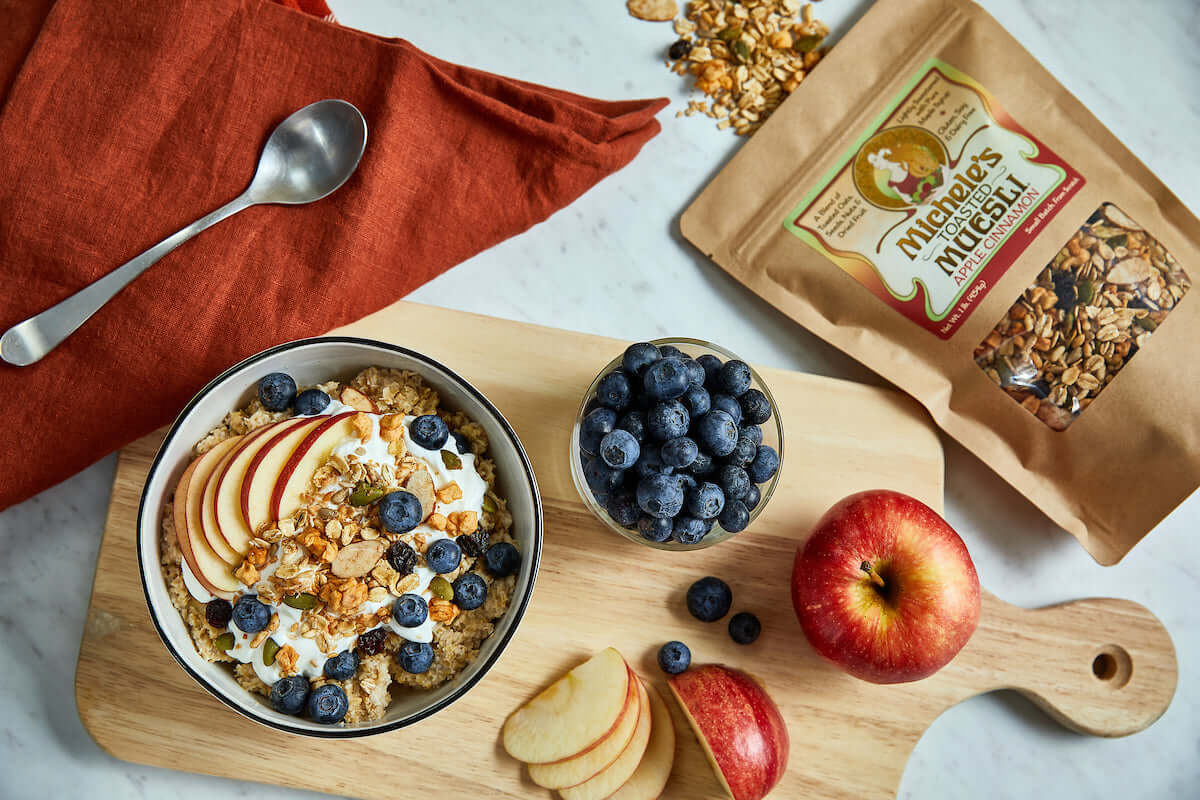 We've heard you loud and clear: A large cross-section of you have been asking for a lower sugar variety that meets the high Michele's Granola standard for exceptional taste, quality natural ingredients and fresh-baked texture. 
We are so very proud to introduce Michele's Apple Cinnamon Toasted Muesli, the second addition to our line of muesli cereal available exclusively here at michelesgranola.com!
Pronounced "myoos-lee" or "myooz-lee," this new toasty blend contains many of the same ingredients that you love in our granola: Whole grain gluten-free organic oats, coconut, dried fruit, plus a variety of nutritious seeds and nuts. And like all of our products, our muesli is free of wheat, dairy, soy, eggs, peanuts and GMO ingredients.
But we bake our muesli without any added oil or refined sugar, so it's a loose cereal without the distinctive chunks you find in our granola.
There are so many tasty ways to enjoy our Apple Cinnamon Toasted Muesli:
Enjoy as a cold cereal with your favorite milk or yogurt and fruit. Traditionally, muesli is raw, but ours is toasted so you can enjoy it right out of the bag!
Prepare it as a hot cereal on the stove or in the microwave (you'll never buy those ubiquitous instant oat packs again!)
Soak it overnight in milk to allow the oats and dried fruit to soften and the flavors to meld, then top with more fruit before eating
Sprinkle it on your green salad for a crunch, natural sweetness and added nutrition
Use it as ingredient in baking, from cookies and breads to baked oatmeal!
We hope you'll enjoy it as much as we loved making it for you.