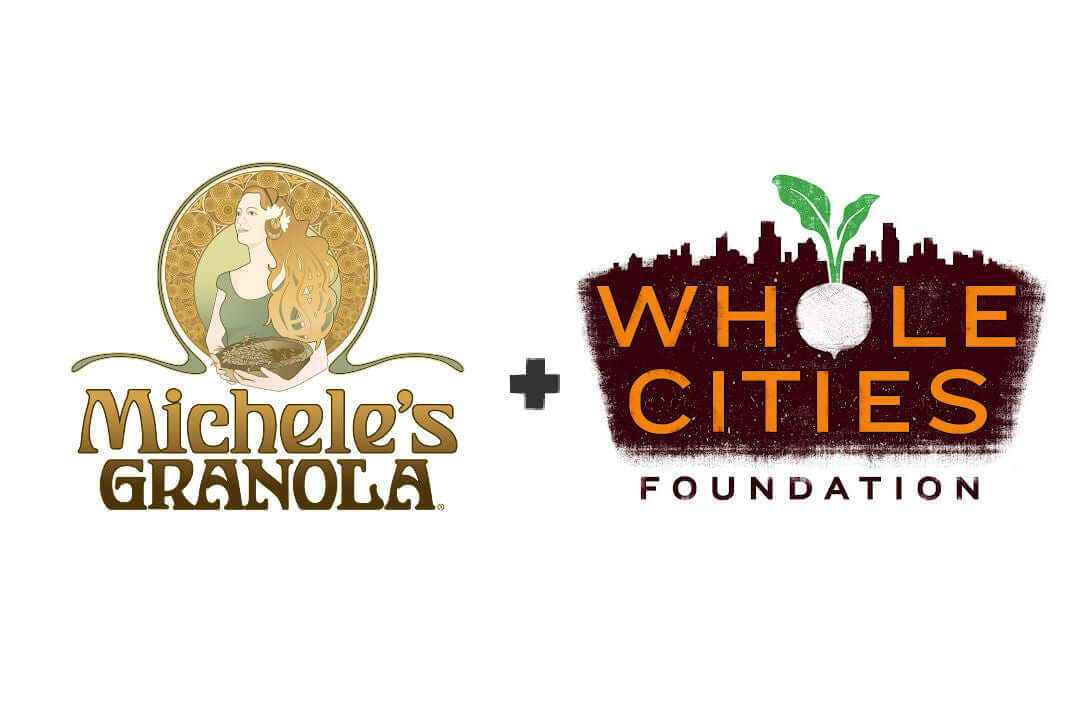 Here at Michele's Granola, we believe everyone deserves good food, and equitable access to good food is at the heart of every healthy community. We bake each batch with the purpose of creating a more just food system and 1% of every sale of Michele's Granola is donated to this important cause. As we expand distribution of our granola and muesli across the country, we are committed to broadening the impact of our Give One for Good Food 1% program beyond the Baltimore region via an exciting new partnership with Whole Foods Market's Whole Cities Foundation.  
The Whole Cities Foundation is a non-profit working to improve access to fresh food and nutrition education. In alignment with this mission, Michele's Granola will be providing funding for the Foundation and several of its partner organizations in a few distinct ways:
First, from May 4 – 17, 2022, $0.40 of every bag purchased at all U.S. Whole Foods Markets, up to $15,000, will be donated to the Whole Cities Foundation to provide unrestricted funding for the organization to continue to champion locally led projects that transform community health. 
Michele's Granola will be donating $8,000 for a 2021 Community First Grant recipient and $30,000 over 3 years for a Local Leaders Grant recipient. 
Since launching the Community First Grant program in 2016, Whole Cities Foundation has awarded 224 grants in over 100 cities across the U.S. (and one in Canada).. Whole Foods Market Team Members nominate locally led organizations to receive these grants and commit to volunteering with the grantee during the grant year. Projects from past grant recipients have included community gardens, urban farms, mobile markets, agricultural skills development programs, healthy cooking classes and other initiatives advancing healthy food access. 
Our multi-year support of the Local Leaders Pilot Grant will amplify the efforts of community thought leaders and organizers dedicated to expanding access to healthy food and nutrition education. This grant is offered by invitation only to a select number of nonprofit organizations in the U.S. with a desire to share their innovations, learnings, and best practices with a wider audience.   
We also are leading the first Michele's Granola Small Business Challenge to inspire 10 fellow food and beverage makers to fund an additional 10 Community First Grants in 2022 totaling $80,000..   
"Growing community health needs to be a collaborative effort, so relationships have always been at the heart of the Community First Grant program," said Dianna Purcell, Senior Grant Programs Manager at Whole Cities Foundation. "The Michele's Granola Small Business Challenge unites purpose-driven organizations that share a goal of improving long-term access to fresh, healthy food. Together, we can strengthen locally led efforts and solutions that advance community heath."  
In the coming months we will be sharing more about the incredible community-based organizations we are supporting in partnership with Whole Cities and the important work they are doing. Stay tuned!