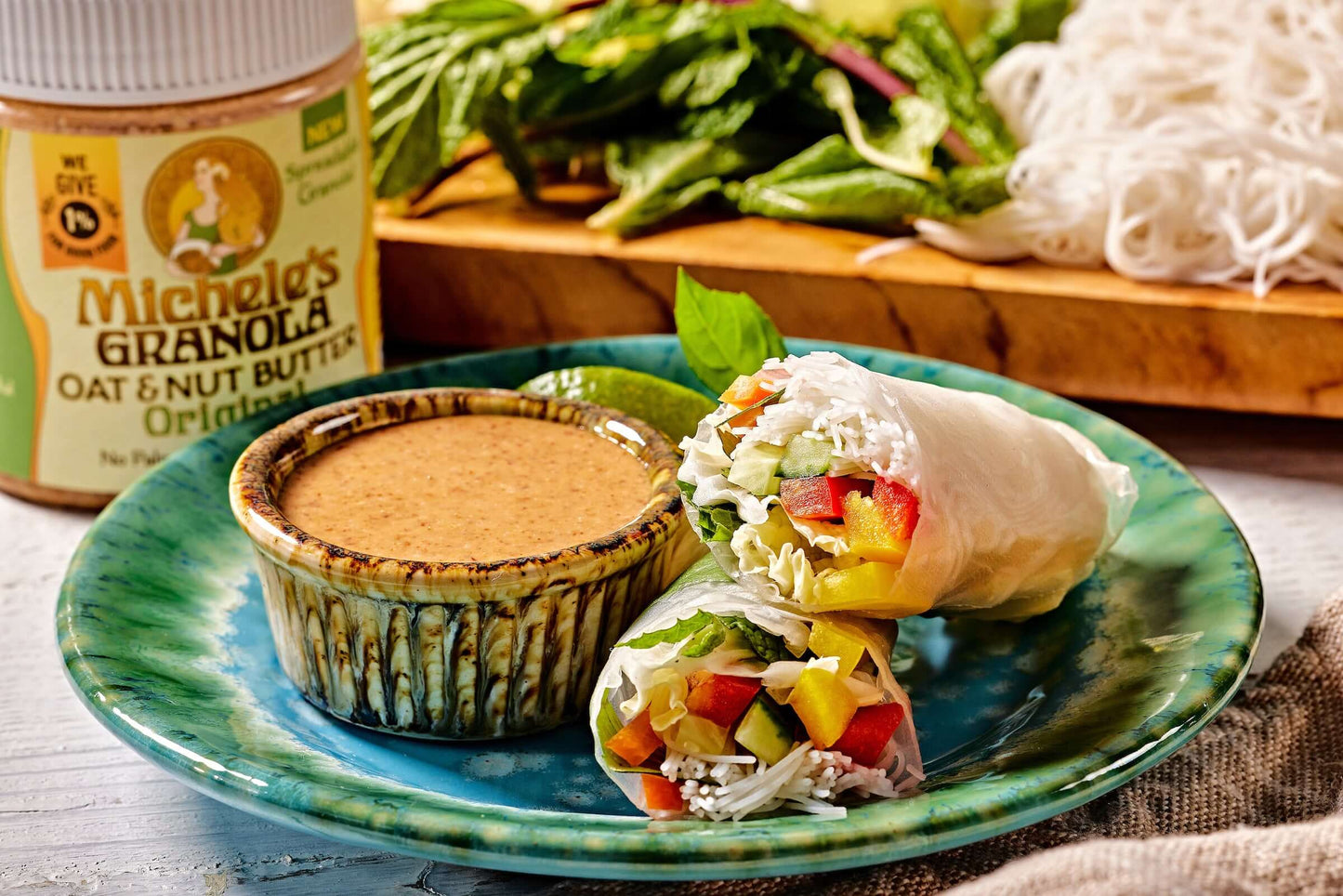 Are you surprised to see our Original Oat & Nut Butter featured in a savory dish? The toasty oats, coconut, cashews and almonds in our granola butter blend deliciously with chili paste and Sriracha to create a piquant dipping sauce for fresh, herbaceous summer rolls! Slice all your vegetables and prepare your noodles ahead of time before you begin assembling.
Makes 6 rolls
Summer Roll Ingredients
6 rice paper wraps
1 carrot, sliced into thin matchsticks
½ English cucumber, sliced into matchsticks
¼ cup Napa cabbage, thinly sliced
½ bell pepper, sliced into matchsticks
6 Fresh Thai basil leaves
¼ cup fresh cilantro leaves
¼ cup fresh mint leaves
½ cup cooked vermicelli noodles
Dipping Sauce Ingredients
½ cup Michele's Granola Original Oat and Nut Butter
2 tbsp low sodium soy sauce
1 tbsp water
½ tsp Thai Chili paste
½ tsp sriracha
1 garlic clove, minced
2 tbsp fresh lime juice
Directions
1. Assemble wraps:
Fill a large bowl with hot water. Insert rice paper wrap, working one at a time, for 20 seconds to soften.
Remove and place on the cutting board.
Arrange vegetables, herbs and noodles in the center. Roll like a burrito to finish.
Slice in half.
2. Prepare sauce:
In a medium bowl, whisk together all dipping sauce ingredients until blended.
If sauce seems too thick, whisk in an additional 1 tbsp of water at a time until desired thickness is achieved.
Serve sauce alongside summer rolls.