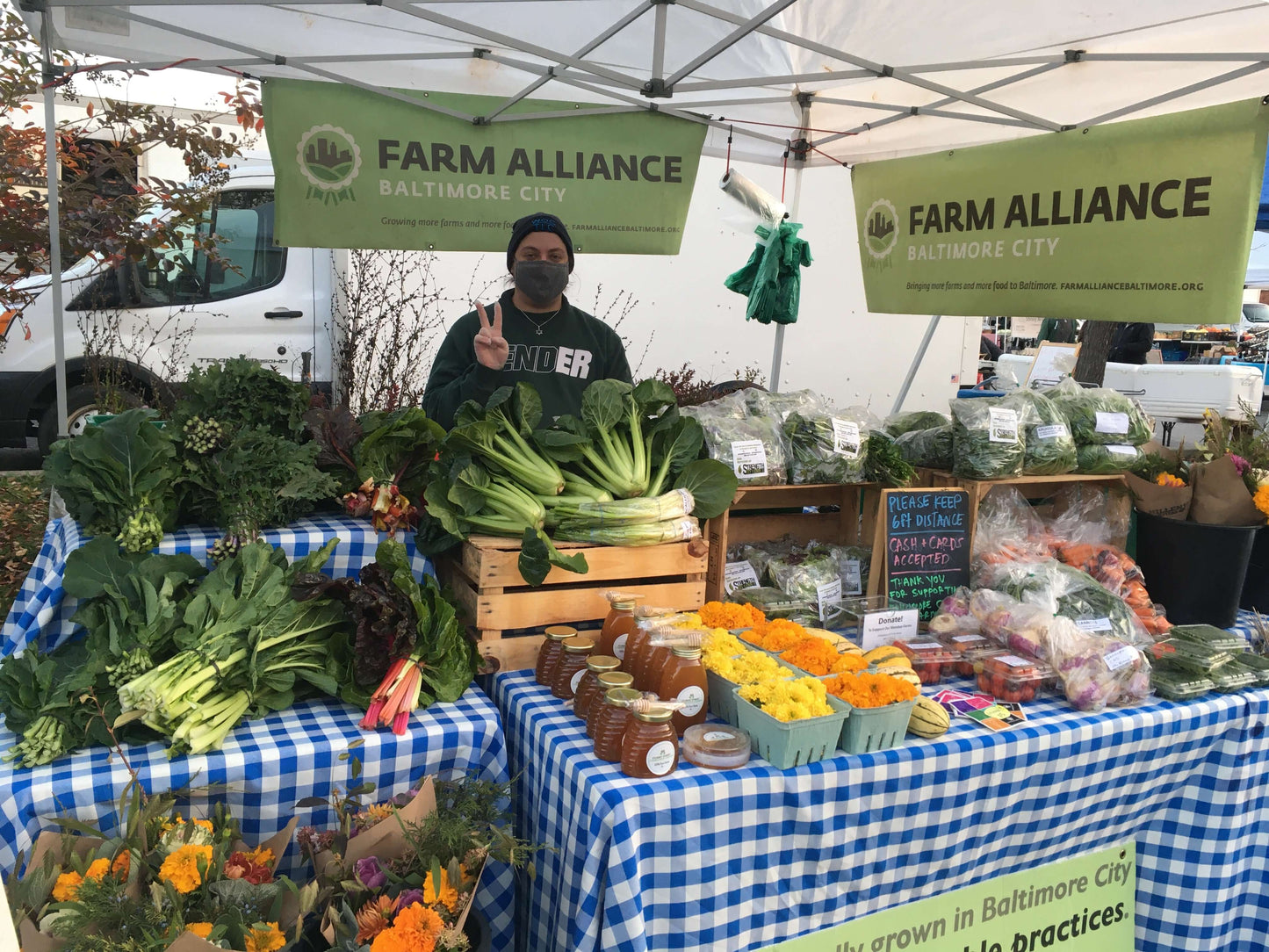 The Farm Alliance of Baltimore (FAB) is a non-profit member-based organization of urban farms, community gardens and independent growers using connection, resource sharing and collective advocacy to help city residents grow food where they are to feed themselves and their communities. Co-Executive Director Mariya Strauss says they consider themselves "a home for anyone growing food, fiber or livestock in the city," and over 45 farms, gardens and individual members have now taken up residence and benefit from its year-round programs and services.
The FAB began to take shape in 2011 and has since been supporting urban food production by way of peer-to-peer networking, sustainable agriculture training, and on-farm technical assistance, including soil testing and seedling distribution. The organization also offers marketing support to its farm members by operating and staffing a farmers market stall at one of the city's busiest year-round farmers markets where product is aggregated from urban farms and all sales are passed directly back to the farmers.
When the pandemic began to take its toll in 2020, the Farm Alliance activated an early Covid response, swiftly providing funding and technical assistance to help their member farms and community gardens keep going and growing an affordable and healthy food supply. They provided member farms with direct cash payments, infrastructure funding (e.g. paying contractors to build and make needed farm repairs), and production and marketing supports such as PPE, packaging and added sanitation equipment to safely take produce to market. According to Strauss, "As a result, although farms' incomes did suffer from labor instability and illness, we did not lose any farms to the pandemic in Baltimore City.
FAB's community-building and membership model, which includes monthly membership meetings, gives its members a guiding voice in the organization's efforts to change the structural inequities of our food system through urban farming. In 2021, in response to member requests, FAB began the Black Butterfly Urban Farming Academy (BBUFA) to develop new urban organic farmers in the city. Led by long-time urban famer, FAB member and now Co-Executive Director, Denzel Mitchell, this is the first-ever farmer training program aimed at teaching people living in Baltimore's segregated communities how to grow food to feed their own communities.
The program is named "Black Butterfly" after the term coined by former Morgan
State University professor and author, Dr. Lawrence Brown, with Brown's blessing, to describe the geography of segregation and poverty in Baltimore: On a map, the city's formerly redlined Black neighborhoods resemble butterfly wings extending out East and West from the White wealthy neighborhoods that run North through the center of the city. The BBUFA program aims to draw its future farmers from these underserved communities, who are provided a stipend and transportation assistance to support their participation.
Alongside the BBUFA program, the organization began building the Black Butterfly Teaching and Demonstration Farm in 2021 in the Curtis Bay neighborhood of South Baltimore. This burgeoning 6.5 acre site is the cornerstone of Mitchell's vision for urban farmer training, organic food production, and a healthier, more equitable city food system. BBUFA trainees work at the farm as part of their training, learning firsthand how to grow organic vegetables from seed to harvest and get them ready for market. The 8 graduates from the 2021 cohort are now equipped to take on agricultural projects themselves and are currently working at existing farming and beekeeping operations in and around the city. Several are also enrolled in more advanced farmer training programs in the Mid-Atlantic.
The Give One grant from Michele's Granola, along with substantial support from the USDA, will help FAB continue to build the farmer training program and provide a beginner farmer tool kit for each of the 10 farmers who will graduate from the program in 2022 and go forth in their communities equipped to grow and distribute healthy food where it is needed most. The grant will also help FAB continue to build the teaching and demonstration farm, while being able to prioritize safety and sustainable organic practices at the farm with composting, low-tillage, and no-till growing methods.
To learn more about the incredible work of the Farm Alliance of Baltimore, check out their website and a recent article in Baltimore Magazine about the Black Butterfly Urban Farmer Academy.
Photo credits: Farm Alliance of Baltimore. Pictured at bottom: Myeasha Taylor, Production and Education Manager