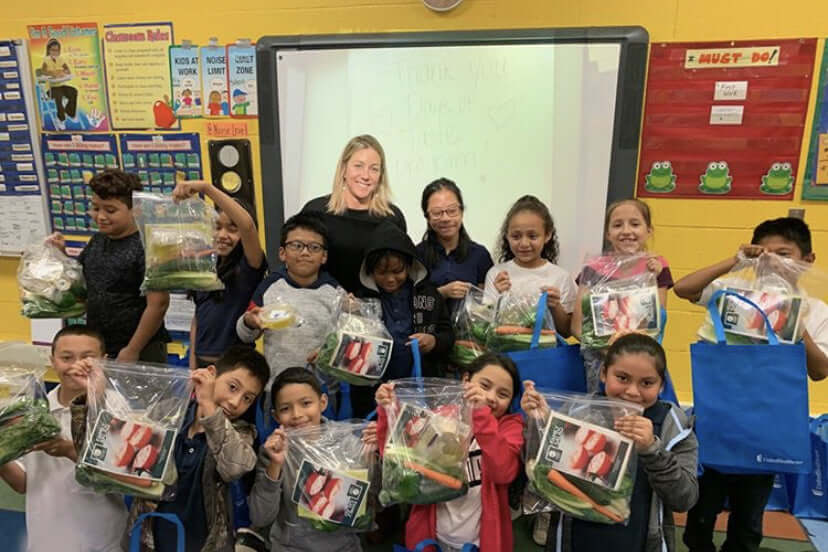 TasteWise Kids (TWK) is a Baltimore City-based non-profit that teaches food literacy to kids through hands-on learning. Their mission is to inspire kids to explore and experience the world of food and its sources, with a goal of encouraging healthier eating habits and reducing obesity, diabetes, and other illnesses linked to poor nutrition.

TWK's regular school programming, which has been offered locally for over 20 years, provides Baltimore City children with fun, hands-on food literacy activities. These activities teach children new ways to think about food, help them explore their sense of taste, and show them that "good-for-you" food is good-tasting food.

My 8-year-old daughter, Hazel, and I recently participated in a TWK service project on Martin Luther King Day, as part of a new program to distribute food literacy activities in partnership with another city organization,
Weekend Backpacks
. Weekend Backpacks provides food-filled bags for food-insecure children to eat on weekends and during breaks when they have no access to school meal programs. This essential support helps to curb childhood hunger and prevent the physical, intellectual, and emotional delays that result from it.
Along with about 20 other volunteers, Hazel and I packed 300 activity bags filled with various fun family activities for upcoming weekend backpack distributions. The bags, which will be distributed over 3 months to 100 food insecure children, included everything from crafts and games designed to teach children how to identify and prepare healthy foods, to lettuce seed packets with information about how to grow and enjoy your own salad. All the activities are thoughtfully designed to make learning about food exciting, and many also include conversation starters to help families connect and build community around food.

In her introduction to the packing session, TWK's Executive Director Wendy Jeffries explained that the goal of including these activities in the backpacks is to bring students and their families one step closer to food literacy. Along with receiving the food, the activities provide a fun and engaging way for the children and their families to simultaneously learn about where the food in their bags comes from, how it fuels their bodies, and how to cook with and consume it to improve their overall nutrition. 

According to Salina Duncan, Program Manager at TWK, though the food is being provided by Weekend Backpacks, "food isn't often used if you don't know what to do with it." She explains that when families are unfamiliar with a food in their backpack, they're less likely to use it. But the literacy activities can help them build knowledge around the foods they receive so they aren't afraid to try them.  
Faculty at the two city schools where this program is being piloted have shared anecdotally that the TWK activities are enhancing student's interest in the food backpacks, as well as providing entertainment, family connection, and nourishment for their hungry minds. At the same time, the activities are also helping to reduce the stigma around receiving the food backpacks.

Through your everyday purchase of Michele's Granola, you are helping to put healthy food into the hands of food-insecure children and their families, while also sharing why healthy food is important and how to prepare the food they receive. If you'd like to support these initiatives directly, please click here to donate, here to become a corporate sponsor, or here to provide supplies on TWK's wish list. 
Photo credit for banner: TasteWise Kids