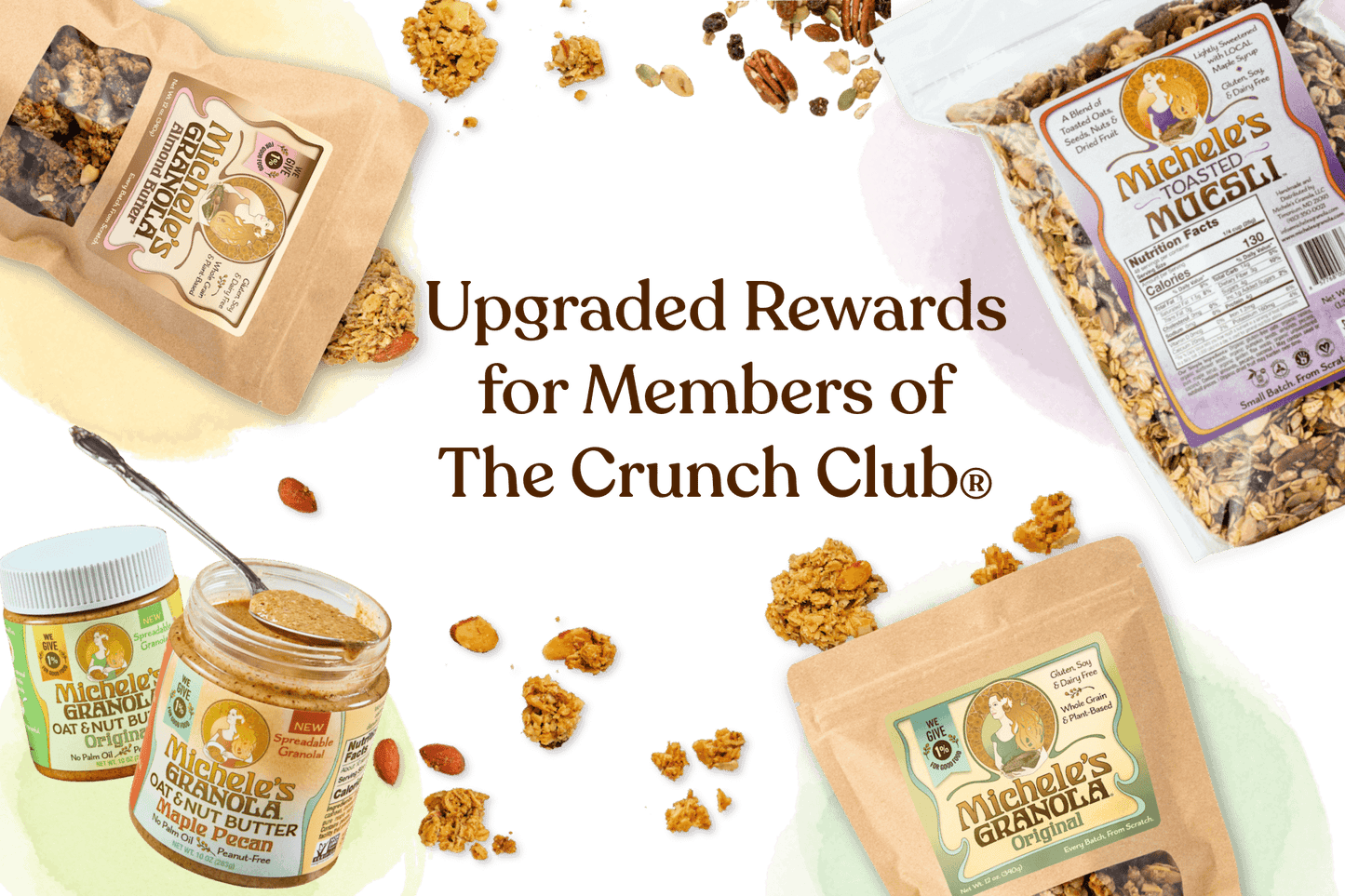 You've asked us, and we heard you, Crunch Club members: You can now apply your earned Reward Points toward your subscription and not just one-time orders!
To apply a discount to an existing subscription:
1. Make sure you are logged in to your Michele's Granola account.
2. Click on the green Michele's Rewards gift box icon on the bottom left corner of any page on our site. If you have enough points to apply to a subscription order, you'll see reward options marked with gift box icons.
You will be eligible for the following discount codes which you can apply to your
next subscription order:
100 - 299 points - $1 off next subscription order
300 - 499 points - $3 off next subscription order
500 - 999 points - $5 off next subscription order
1000 points can be used only for one-time orders for a 10% off discount on your order (minimum $20 order size before shipping).
All your redeemable coupons will be listed here. Note you can only use one coupon per purchase, so you cannot generate multiple coupons each visit.
3. Click on the coupon you would like to redeem and click the green Redeem button to generate a unique discount code.
4. Click on the clipboard icon at right of the discount code to copy it and click on
"Discount a subscription" to be taken to your account's Manage Subscriptions page.
5. Click on an upcoming subscription, then click on a subscription item and scroll to the bottom of the page. Click the Add discount button and paste your discount code into the empty field before clicking apply discount.


 If you get stuck, we're here to help weekdays, 9am - 4pm Eastern: Email the dedicated address for members of The Crunch Club at TheCrunchClub@michelesgranola.com, or give us a ring at 410-350-0021, extension 1003 for assistance.
Reminder: This discount will be applied to your subscription order. You may only generate and use one discount at a time. Discounts must be applied before charges are processed.