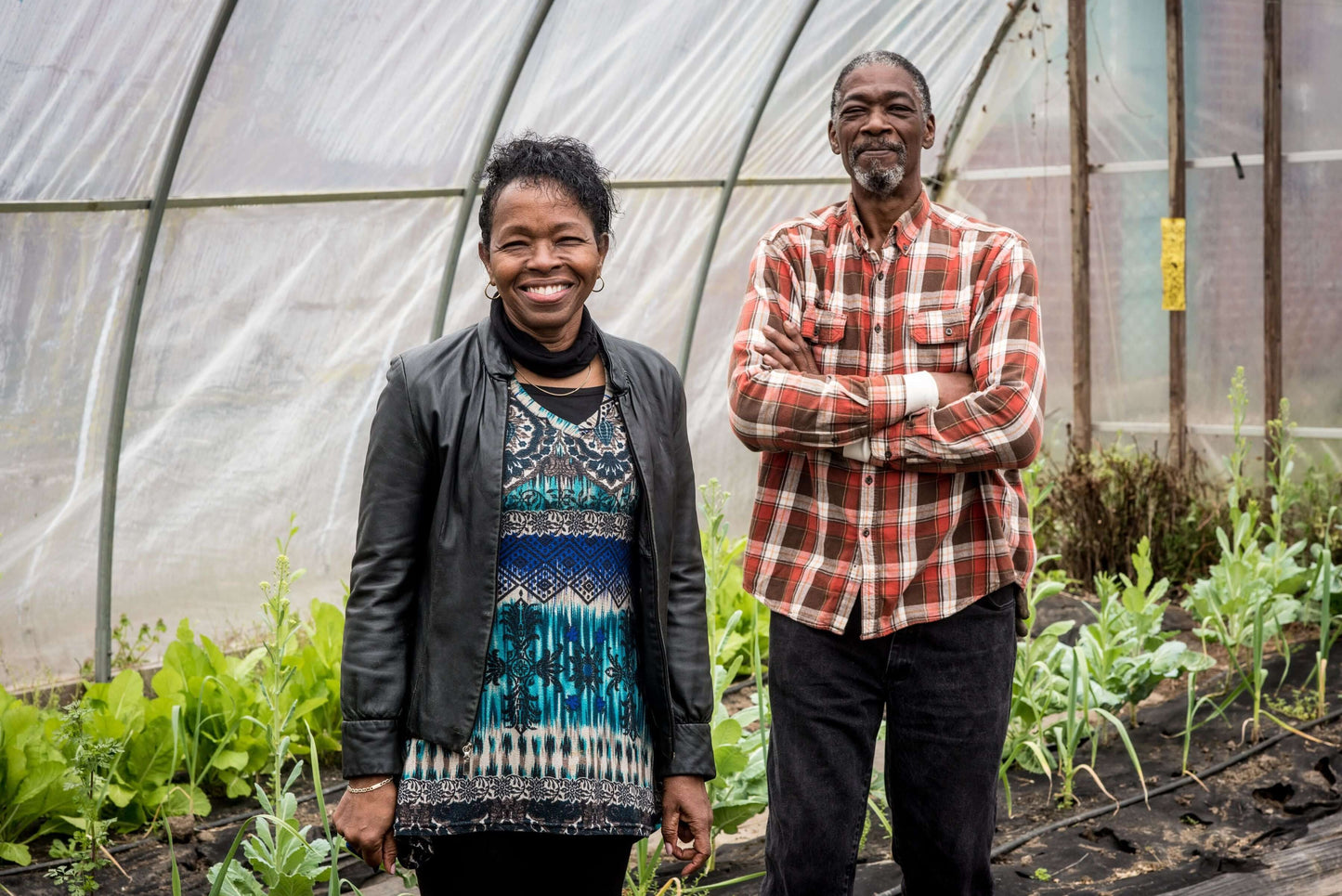 When my team asked me to help identify a non-profit partner to receive 1% of the sales of our Limited Edition Golden Mylk Granola (note: we sold out and this special batch is no longer available), inspired by the ancient healing drink made with turmeric, I immediately thought of Mike and Karen Minnis, and a conversation I had with them about the power of food to heal people and communities.
Mike and Karen live and work in the Orange Mound neighborhood of Memphis, TN—an area impacted by lack of access to fresh, healthy foods. Karen is a nutritionist, certified food processor and avid fruit and vegetable consumer, who worked as an educator for 30 years. Mike is a banker turned community activist, developer, and urban farmer. Together they have reclaimed and converted a vacant property in Orange Mound into a thriving indoor, year-round farmers market, food pantry and ½ acre urban farm that produces over three tons of healthy food annually, known as the Landmark Training Development Company (LTDC).
The Minnis' passion for healthy eating and using food as medicine is the foundation of LTDC's programming to advance community health. In fact, "Eat Well to Live Well'" is the guiding principle of their community-led, multi-faceted approach rooted in holistic nutrition, sustainability, and empowerment. Their diverse garden program contains a catfish pond, fruit tree orchard, chicken coop, bee hives, hydroponics and four high tunnels, producing a variety of healthy foods year-round for community residents. To simultaneously increase economic opportunities and self-sufficiency through agriculture, they sell a portion of their organic produce to retailers including Whole Foods Market and operate a youth urban farmer training and outreach center, helping youth develop job skills, positive social habits and self-sufficient attitudes.
Beyond this special Limited Edition partnership, Michele's Granola also has selected LTDC to receive our 3-year $30,000 Local Leaders Grant through the Whole Cities Foundation, a program that aims to amplify the efforts of community thought leaders and organizers dedicated to expanding access to healthy food and nutrition education. The grant funding will be used to expand their crop production and healthy food access work for local youth.
"No matter where you are or who you are, food brings people together," says Mike, and our Golden Mylk Granola aims to do just that! I invite you to learn more about LTDC on their website here and get a glimpse of their work in action in a video produced by the Whole Cities Foundation here.