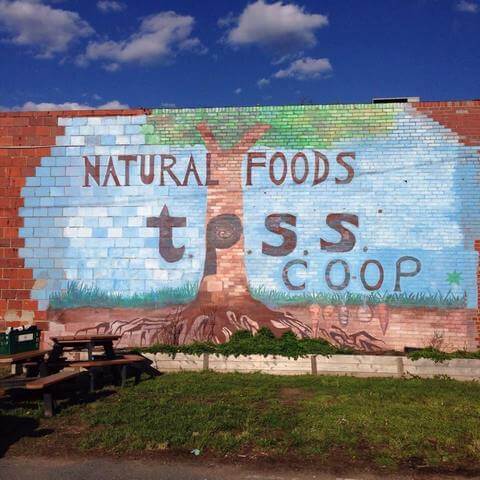 It was back in 2006 when Michele realized she had something special on her hands.
Experimenting in her home kitchen, Michele had created a recipe for a uniquely delicious granola baked with fresh premium ingredients, with a perfectly light and crisp texture. On the encouragement of her friends, she was ready to make the leap to see whether her granola-making hobby could transition into a viable business. She took her handmade granola to the Takoma Park Farmers Market, where she sold out week after week, and the next step to grow her business was to sell her granola to a store. 
It was important to Michele that any store carrying her granola should be aligned with her own values and those of her newfound company. She sought a community-minded partner who prioritized organic products and valued eco-friendly practices.
Michele found that partner in TPSS Co-op of Takoma Park, a partnership that stands strong today.
TPSS met Michele and tried her granola at the farmers' market, and their first orders were for Michele's Original and Pumpkin Spice (the only flavors Michele was baking then) in bulk.
TPSS wasn't just a customer in those early days; they were Michele's ingredient supplier as well. Michele and her first official employee Tony--now the sales and distribution manager of Michele's Granola--would head to TPSS every Monday to pick up bulk ingredients Peter had set aside on special shelf in their tiny back room. Michele would then transform those oats, seeds, nuts, coconut and organic sugar into 10 batches of granola per week (for a little perspective, today we bake 350-400 batches a week!).
Both TPSS and Michele's Granola have grown considerably since those early days, but both hold strong to the values that brought them together. TPSS continues to offer its customers (who are also its owners) wholesome organic foods and excellent quality produce. They are also a wonderful partner to their community, giving back to local organizations. There are more hands in the kitchen than just Michele's today, but her granola is made with the same recipe in the same way: By hand, in small batches, from scratch. Michele also prioritizes giving back to the community, founding the charitable giving network Give One for Good Food® and channeling more than $70,000 in cash donations to organizations improving access to nutritious food and leading the way to a healthier, more equitable food system.
We look forward to many more wonderful years of partnership with TPSS.
Do you want to see Michele's Granola on the shelves of a store in your local area? Click here to download a product request form!
Header photo via TPSS Co-op Facebook page