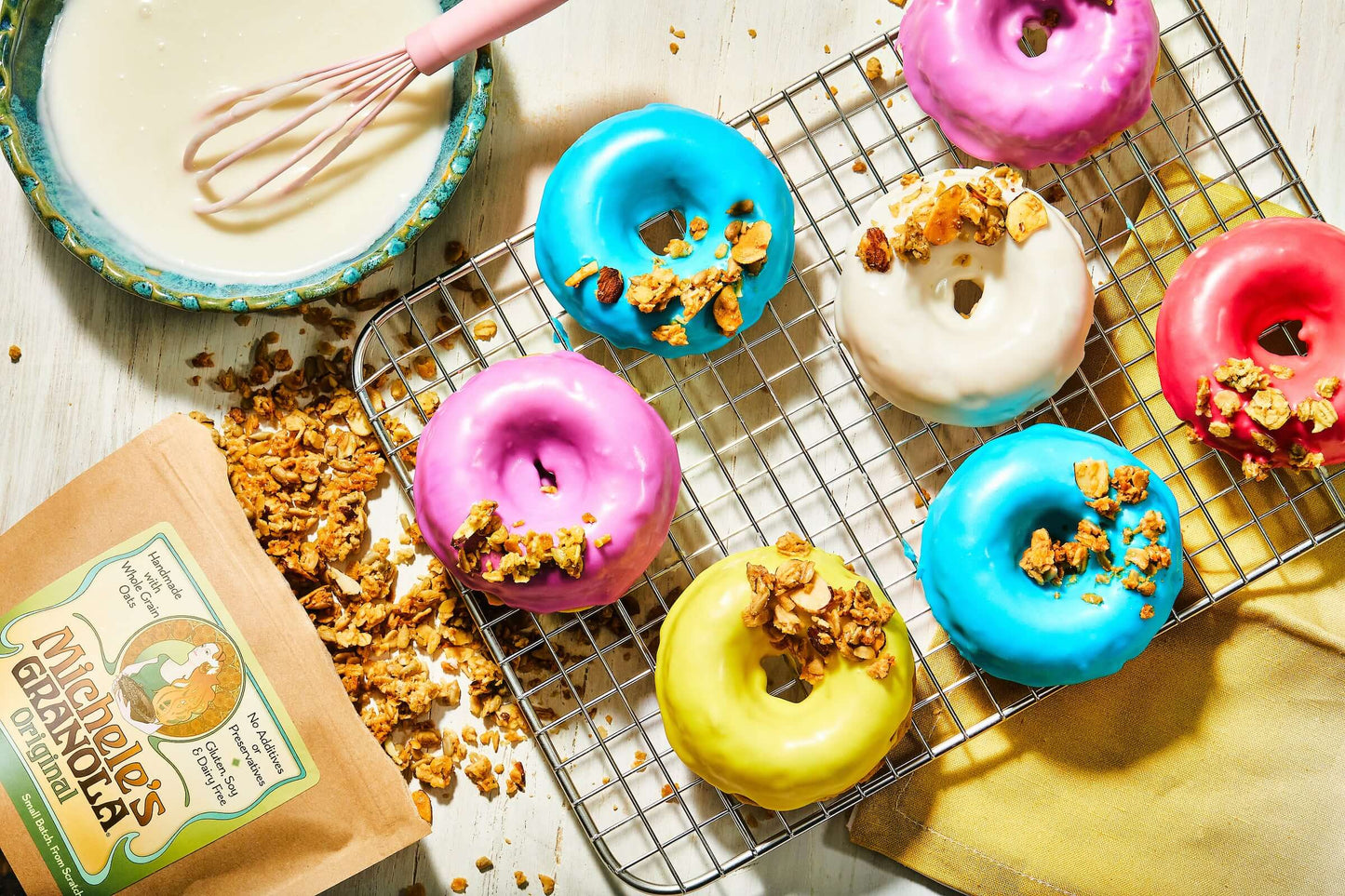 You may never buy a doughnut again once you try this simple and wholesome baked version, featuring soft cake with oatmeal cookie flavor under an unctuous maple glaze. We baked these with our Original granola, but our Cinnamon Raisin variety would make for raisin-filled oatmeal cookie flavor.
Makes 6 donuts
Doughnuts
1 cup flour
⅓ cup brown sugar
1 tsp baking powder
½ tsp salt 
¼ tsp ground cinnamon
3 tbsp butter, melted
1 egg
½ cup milk 
1 tsp vanilla extract 
⅓ cup Michele's Original Granola
 Maple Vanilla Glaze
1 cup powdered sugar
½ tsp vanilla extract
1 tbsp maple syrup
3-4 tbsp heavy cream
Optional: natural food coloring for the glaze, and extra granola and/or sprinkles for topping
Preheat the oven to 350.
Make the Donuts: Combine dry ingredients in a large bowl. 
Whisk in melted butter, milk and vanilla extract until combined.
Fold in granola.
Spoon into donut shaped baking pan, filling cavities ¾ of the way. 
Bake for 8-10 minutes.
Maple Vanilla Glaze: Whisk together powdered sugar, vanilla extract, maple syrup, and heavy cream. If glaze seems a bit too thick, add cream a tbsp at a time until it reaches your desired consistency, then add natural food coloring if you're using. 
Dip the cooled donuts in the glaze, and immediately top with more granola and/or sprinkles before the glaze sets.