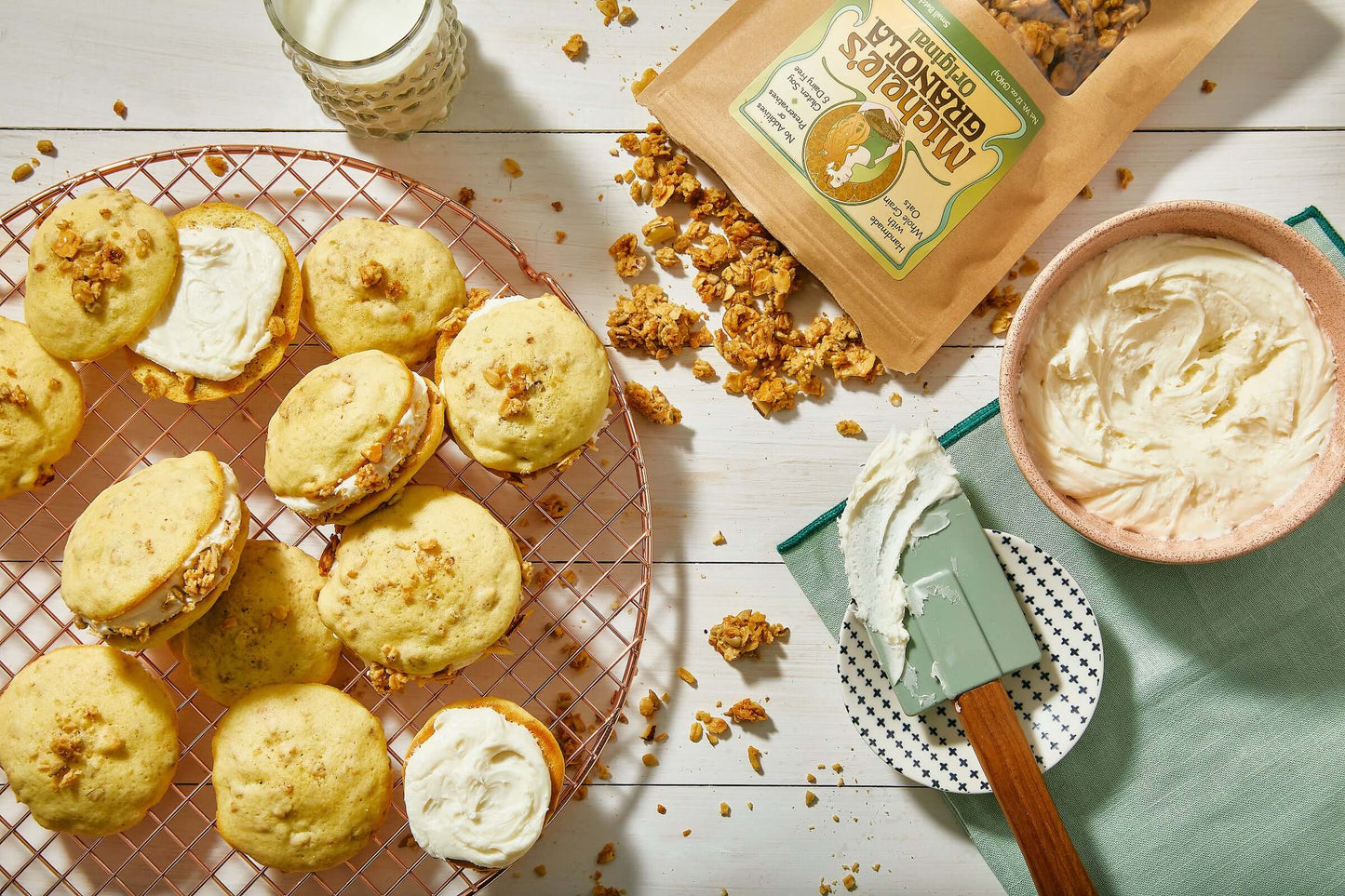 Soft cake-like cookies with oat-y bites of granola sandwich a pillowy marshmallow filling in these sweet treats. Our Original Granola adds a tasty hint of vanilla, but any of our varieties would be delectable in these indulgent cookies.
Makes 15 Whoopie Pie Sandwich Cookies 
Cookie Ingredients

½ cup butter, softened 
1 cup sugar
3 eggs
3 tsp vanilla extract
2 cups all purpose flour
½ tsp salt
1 tsp baking soda
½ tsp baking powder
½ cup hot water
1 cup Michele's Original Granola, lightly crumbled 
Marshmallow Filling Ingredients

½ cup butter, softened
2 cups powdered sugar
2 cups marshmallow creme
¼ tsp salt
1 tsp vanilla extract
In a large bowl, whisk together softened butter, sugar, eggs, and vanilla. In another bowl, stir dry ingredients together. 
Stir the dry ingredients to the butter mixture a little at a time. Dough will be thick.
Pour in hot water and whisk.
Sprinkle in granola and fold to combine. Place 1 tbsp scoops of batter onto a baking sheet lined with parchment paper and sprayed with non-stick cooking spray
Bake at 425 for 7-10 minutes. Let cool completely before filling.
While cookies cool completely, make marshmallow filling.
Cream butter and powdered sugar together. Add marshmallow creme, vanilla extract, and salt. 
Spread 1 tbsp of marshmallow filling in between two cookies and sandwich them together.
Sprinkle/roll in granola if desired.