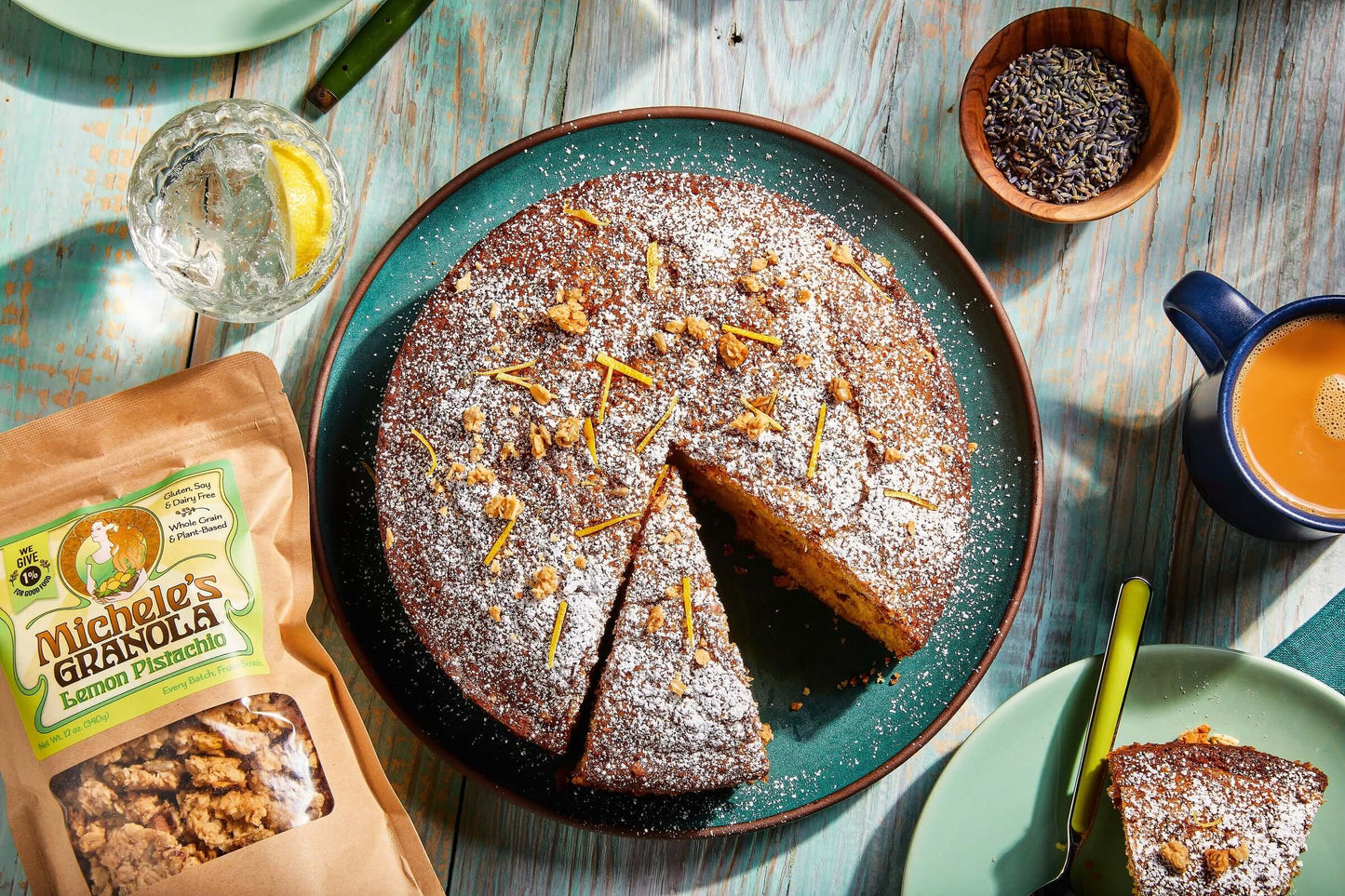 This wonderfully citrusy cake is a scrumptious treat to celebrate a special occasion, or to lift your spirits with sunshiny flavor! Our Lemon Pistachio Granola is the secret ingredient in this dessert, adding nutty flavor and tasty texture.
Makes 1 cake, serves 8-10
1 ¼ cups extra-virgin olive oil plus more for brushing
1 ⅓ cups whole milk
3 large eggs
2 tsp vanilla extract
1 tbsp lemon zest, plus more for serving
1 tbsp lemon juice
1 tbsp lavender buds
2 cups all-purpose flour
1 ½ cups granulated sugar
1 tsp salt
½ tsp baking soda
½ tsp baking powder
2 Cups Michele's Lemon Pistachio Granola, lightly crumbled
Optional: Powdered Sugar, for serving
Preheat the oven to 350F. Line a 9-inch springform pan with parchment paper and brush with olive oil. Set aside.

In a large bowl whisk together extra virgin olive oil, milk, eggs, vanilla, lemon zest lemon juice and lavender buds, lightly crushed with fingers to release oils.

In another large bowl whisk together flour, sugar, salt, baking soda and baking powder.

Slowly add the wet mixture to the dry, whisking after each addition, until the batter is mostly smooth (some lumps are fine). Add in crumbled granola and stir to combine.

Pour the batter into the prepared pan and bake for 1 hour and 20 minutes or until the top is golden and a toothpick comes out clean.

Transfer the cake to a cooling rack and let sit for 30 minutes, then invert the cake onto the rack and out of the pan, and let cool completely, about 2 hours.

Dust with powdered sugar and more lemon zest if desired.