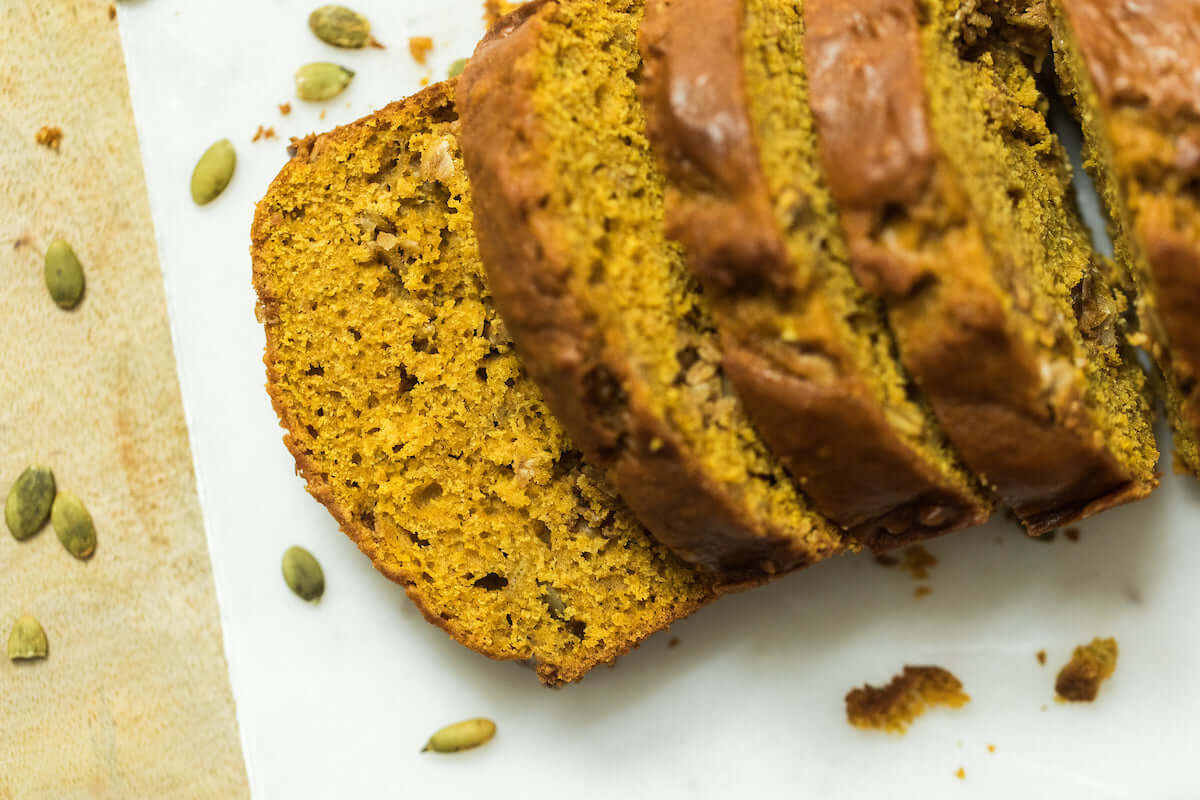 My grandmother always had a fresh-baked breakfast loaf in her kitchen, which she would serve warm, in thick slices, with a generous smear of salted butter or cream cheese. She would show up to every holiday with at least 3 loaves in hand, neatly wrapped in parchment paper and labelled—one date, one cranberry walnut, and one pumpkin. This is my fresh take on the moist, sweet pumpkin bread of my childhood, incorporating my Pumpkin Spice granola and the zucchini still growing in my family's summer garden.
Pumpkin Spice Zucchini Bread
Yield: 2 – 9 x 5" loaves
Ingredients
3 eggs, lightly beaten (or 3 flax seed eggs )
1 c. sugar
1 c. light brown sugar
15 oz can pumpkin puree
1/2 c. coconut oil, melted 
1 Tbsp vanilla extract  
3 c. unbleached all-purpose flour
1 t baking soda
½ t baking powder  
1 t cinnamon
1 t nutmeg
½ t cloves
½ t sea salt
1 1/2 c. shredded zucchini (approx. 1 large zucchini)
1 c. Michele's Pumpkin Spice Granola
Directions
Preheat oven to 350F
In a large mixing bowl, combine eggs and sugar until creamy
Stir in pumpkin puree, coconut oil and vanilla extract
In a separate bowl, combine dry ingredients
Gradually add flour mixture to pumpkin mixture
Stir in zucchini and granola
Pour into two greased and floured 9 x 5" loaf pans
Bake at 350F for 45-50 minutes, or until toothpick comes out clean
Cool on wire rack
If you recreate this wonderful recipe or create an original recipe featuring our granola, we'd love to see it! Please share on social media, being sure to tag us on Instagram or Facebook.