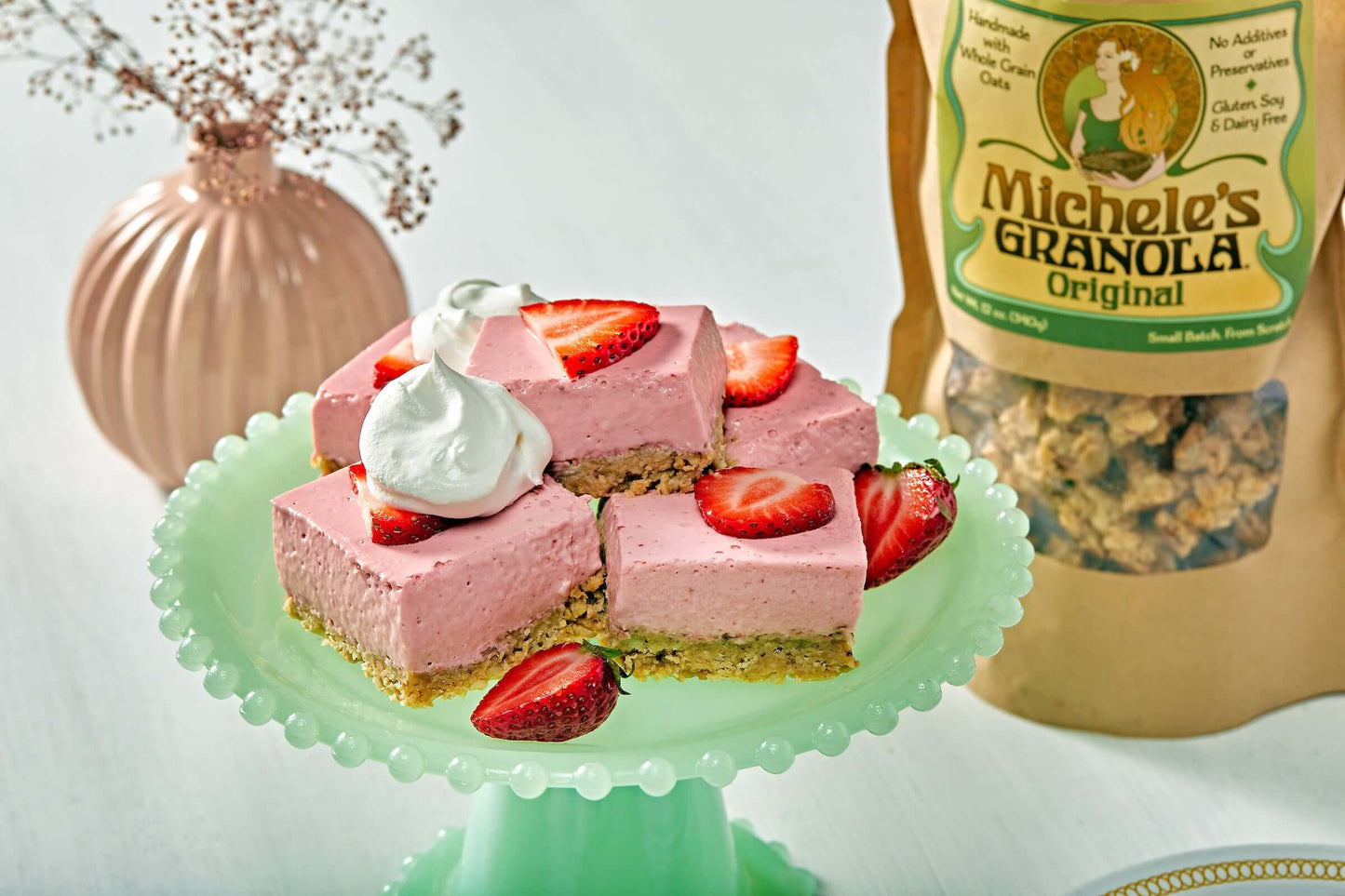 Once you've tried an oaty, nutty, buttery granola crust made with our Original Granola, you'll never make another graham cracker crust again. But these dense, creamy strawberry cheesecake bars are an indulgent treat you'll definitely want to make over and over!

Makes 16 Bars
Crust
2 cups Michele's Original Granola, finely ground
6 tbsp butter, melted
2 tbsp granulated sugar
Strawberry Cheesecake Filling

2 lbs fresh strawberries, cleaned and cut in half
¾ cup granulated sugar
16 oz cream cheese, softened
1 oz package, unflavored gelatin powder
Fresh strawberries, for garnish
Michele's Original Granola, for garnish
Preheat the oven to 350F and line a 9x9" pan with parchment paper.

Combine all crust ingredients in a large bowl. Mix by hand until combined. Spread evenly into the parchment-lined pan.

Bake for 8 min. Let cool completely.

Place strawberries and sugar in a blender. Blend until smooth. (No need to clean the blender, as it will be used in step 8)

Strain strawberry mixture through a fine mesh sieve. 

Reserve ¼ cup of strawberry mixture in a small bowl. Sprinkle gelatin over the reserved mixture in the small bowl, mix, and set aside.

Place ¾ cup of strawberry juice into a small saucepan over medium high heat. Simmer until the strawberry juice has reduced down to about 3 tablespoons. Keep an eye on it so it does not over boil. It will become syrupy, dark, and thick.

Take the saucepan off the heat and stir softened gelatin in until it is dissolved. Transfer to a heat proof bowl, and let cool slightly.

Into the same blender, add strawberry gelatin mixture, remaining strawberry juice, and cream cheese. Blend until smooth.

Pour over the cooled crust.

Refrigerate until bars are set, at least 4 hours, or overnight.

Garnish with sliced strawberries and more granola if desired.