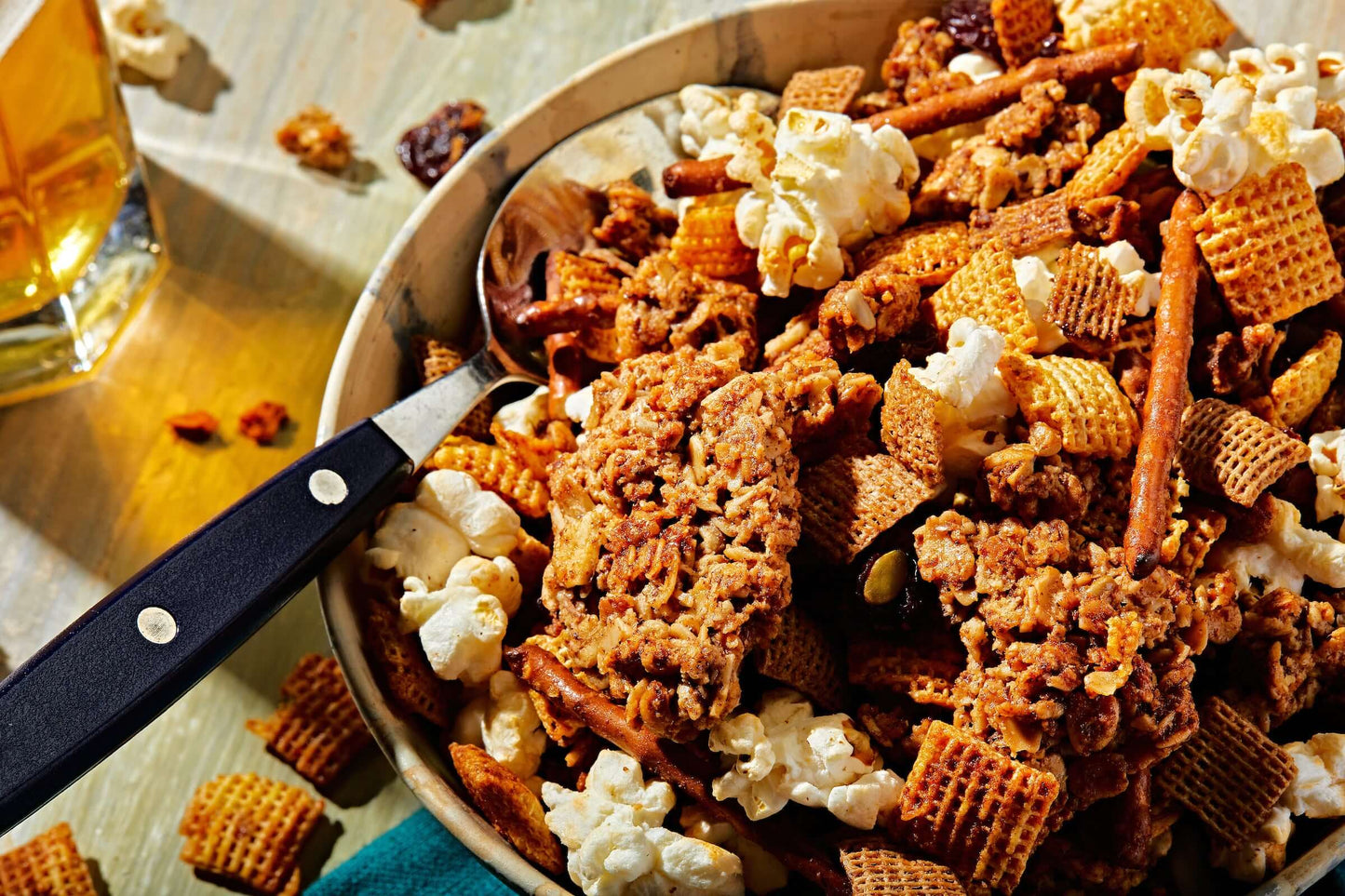 Who doesn't love a crunchy, sweet and savory snack mix? This tasty blend includes classic ingredients, like rice square cereal and Worcestershire sauce, along with some more surprising additions like our chunky, almond-filled Almond Butter Granola! Serve it in a bowl, or serve it in individual snack-sized ramekins or bags to safely share with a crowd.
1 ½  tsp smoked paprika
1 tsp garlic powder
¼ tsp cumin
½  tsp cayenne pepper
¼ tsp salt
2 tbsp Worcestershire sauce *
1 tbsp honey *
¼ cup coconut oil
3 cups Michele's Almond Butter Granola
1 cups mini pretzels
½ cup dried cherries
½ cup raw pumpkin seeds
1 cup wheat square cereal (like Chex--use Rice for gluten-free)
2 cups corn square cereal
2 cups plain popped popcorn
Directions
Preheat the oven to 350F and line a baking sheet with parchment paper or a silicon mat.

In a small bowl, mix together spices, salt, Worcestershire sauce, honey and coconut oil. Microwave on high 1 min, or until coconut oil is melted. Whisk together until combined. Set aside.

In a large bowl, combine granola, pretzels, dried cherries, pumpkin seeds, and wheat and corn Chex. Drizzle spice mixture over. Toss to coat.

Spread onto the prepared baking sheet. Bake for 8-10 min, tossing and stirring halfway through cooking.

Stir in popcorn. Cool completely.
Kitchen tip: Make this tasty mix gluten-free by using gluten-free pretzels, rice square cereal instead of wheat, and confirm your Worcestershire sauce is gluten-free by choosing a clearly marked brand like Lea & Perrins. All varieties of Michele's Granola are gluten-free!
* Make it vegan: Use a vegan Worchestershire sauce like Annie's and sub maple syrup for honey.