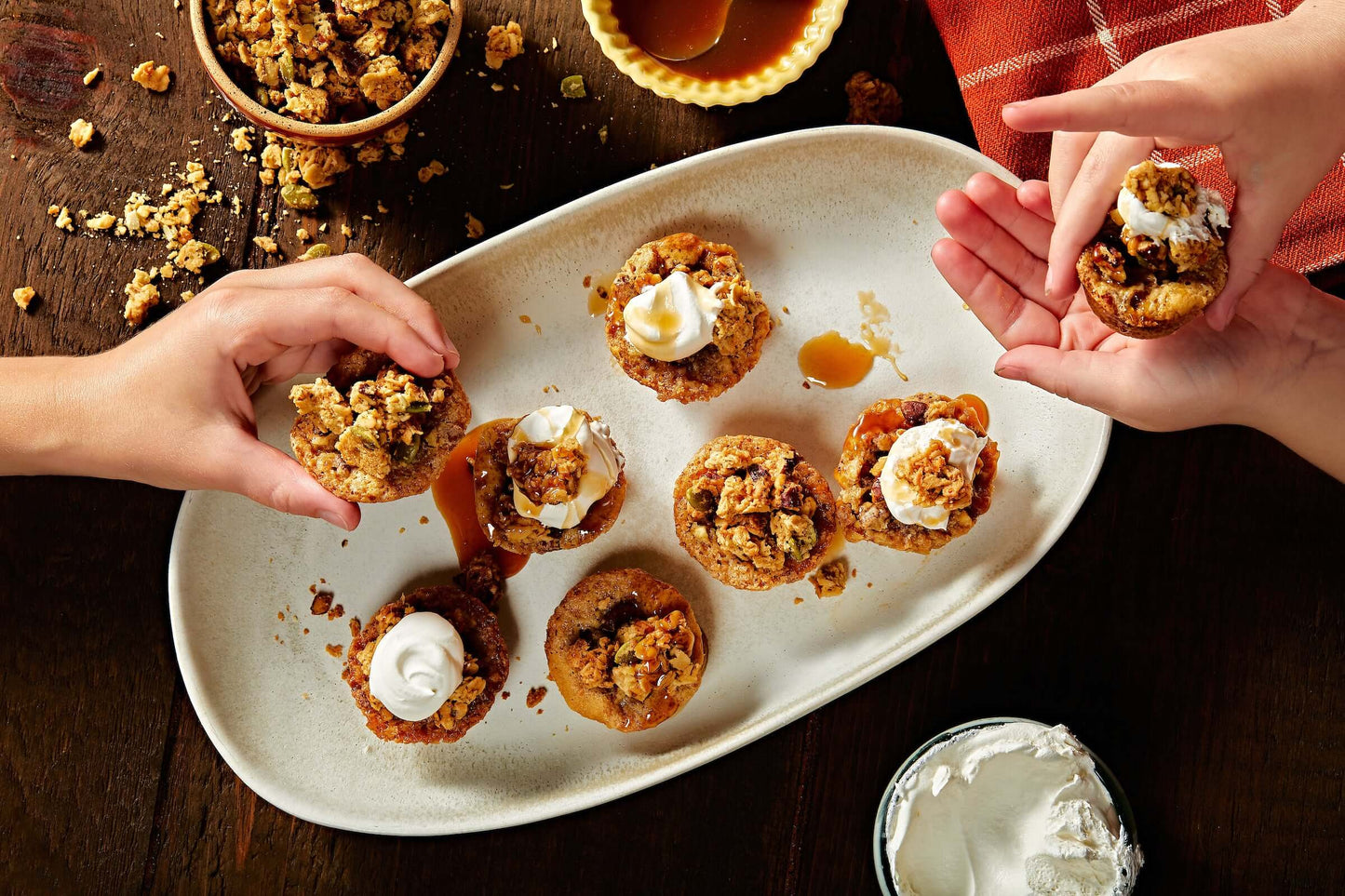 Sweet and salty, nutty and buttery, these tartlets featuring our new Salted Maple Pecan Granola are fun to make and even more fun to snack on--especially with a friend.
Makes 36 bites 
Crust 
1/2 cup butter, softened 
3/4 cup brown sugar 
1 tsp vanilla extract 
1 egg yolk 
1/2 tsp baking soda 
1 cup flour 
1/2 cup Michele's Salted Maple Pecan Granola, lightly crumbled, plus more for garnishing  
Pecan Filling 
1/4 cup butter, melted 
1/2 cup brown sugar 
1/4 cup granulated sugar  
1/8 tsp salt  
3 tsp flour 
1 egg 
2 tbsp heavy cream 
1 tsp vanilla extract 
1/2 cup chopped pecans  
Whipped cream, for garnish 
Caramel topping, for garnish 
Pre-heat oven to 350F and line mini muffin tin(s) with 36 mini muffin cups.

 

In a stand mixer, cream butter and brown sugar until light and fluffy.

 

Beat in vanilla extract and egg yolk. 

 

Mix in baking soda and flour just until incorporated. Fold in lightly crumbled granola.

 

Distribute 1 teaspoon of dough at a time among the 36 mini muffin cups, pressing down slightly and leaving room for pecan filling.

 

In a small bowl, whisk all filling ingredients together.

 

Spoon 1 tsp of filling on top of crust. 

 

Bake for 10-12 min. Let cool completely.

 

Garnish with granola, whipped cream and caramel topping if desired.