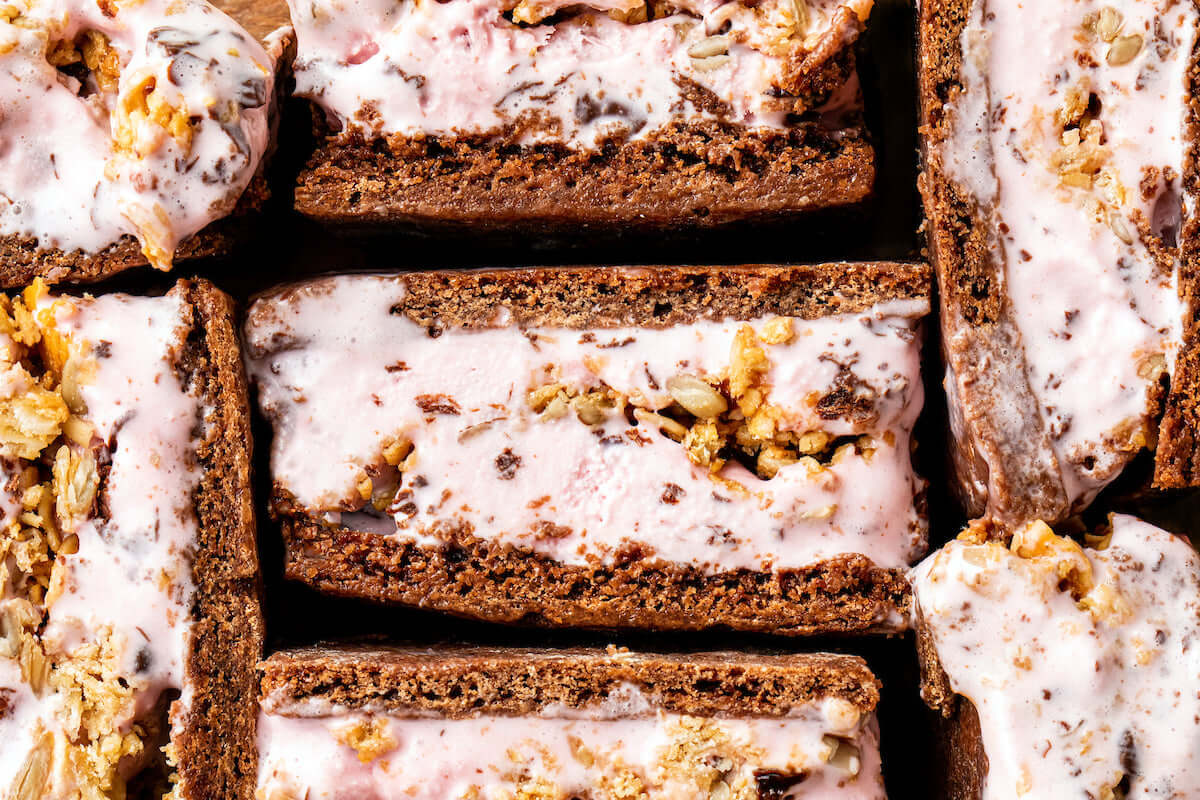 Cherries and chocolate have long been one of Michele's favorite flavor combinations. Naturally, we were inspired to give this Food & Wine recipe a crunchy twist with our Cherry Chocolate granola, and it was so delicious that it's worth sharing these last days of summer. Make these a day ahead to allow time for the dough to chill before baking and the sandwiches to freeze overnight.
Ingredients:
1 1/4 c all-purpose flour, plus more for dusting
1/3 cup unsweetened cocoa
1 teaspoon kosher salt
3/4 teaspoon baking powder
1/2 cup unsalted butter (4 ounce), softened
3/4 cup granulated sugar
1 large egg
2 teaspoons vanilla extract
2 pints of Alden's Organic Midnight Cherry Chip or your favorite store bought cherry ice cream, softened
8 ounces of Michele's Cherry Chocolate granola (2/3 of a standard brown bag)
Directions:
Sift together flour, cocoa, salt and baking powder.
Beat butter and sugar in the bowl of a stand mixer fitted with the paddle attachment on medium until light and fluffy, about 4 minutes.
With mixer running, add egg, beating until well combined, then stir in vanilla.
Gradually add flour mixture, beating on low speed until just combined. Wrap dough in plastic wrap, and chill until firm, at least 2 hours or up to 3 days.
Roll dough out on a parchment paper–lined work surface into a 14- x 11-inch rectangle (about 1/8 inch thick), flouring top of dough as needed to prevent sticking. Trim into a 13- x 10-inch rectangle.
Slide parchment paper with dough onto a large baking sheet and chill until firm, about 30 minutes.
Prick holes all over dough about 3/4 inch apart.
Bake in preheated 350°F oven until set in middle but still soft, 9 to 11 minutes. Transfer baking sheet to a wire rack, and cool completely, about 30 minutes.
Pulse the granola in a food processor to break up the chunks and chop the cherries.
Cut the cooled cookie crosswise into 2 rectangles, inverting one half onto a large piece of foil and top with one pint of ice cream, spreading to edges in an even layer.
Spread on the granola evenly across the ice cream layer, pressing gently, then spread the second pint evenly over the granola
Place the remaining cookie half on top of ice cream, wrap in aluminum foil and freeze 8 hours.
Remove frozen sandwich from foil and cut into 12 bars. Serve immediately or wrap the individual sandwiches in parchment or wax paper and store in the freezer up to 1 month.