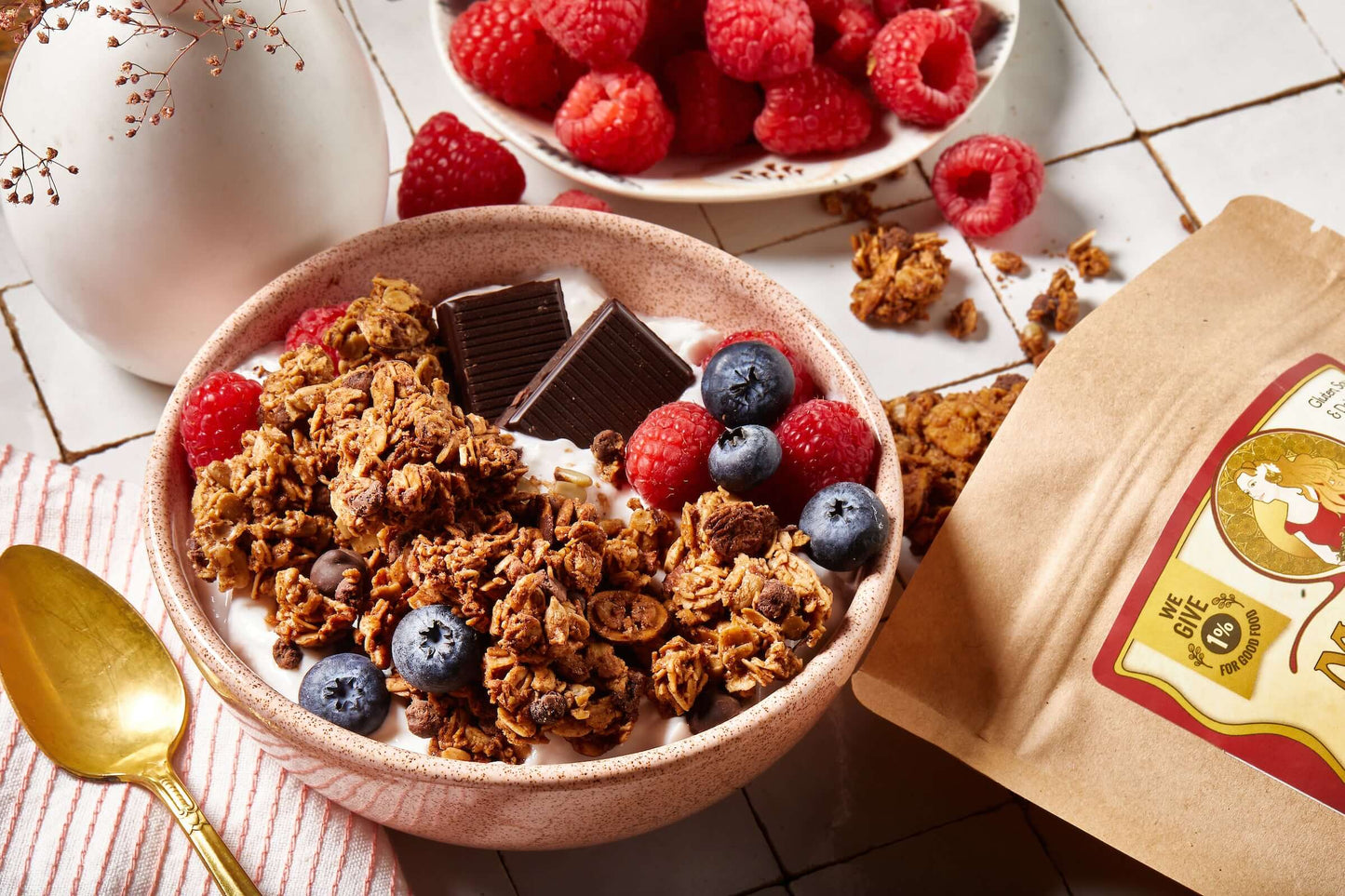 There are so many ways to enjoy chocolate that don't include a huge wallop of sugar--including in our granola--but what is a "healthy" amount of sugar?
What's a Healthy Amount of Sugar? 
For a healthy lifestyle, the FDA recommends 12½ teaspoons of added sugar (50 grams) as the maximum daily amount for adults as part of a 2,000-calorie diet.
Our Cherry Chocolate Granola contains just one-and-a-quarter teaspoons (5 grams) of added sugar per serving, and our Cocoa Chocolate Chip Granola has just one teaspoon (4 grams) of added sugar per serving.
The organic brown sugar in our granola isn't just for sweetness: It's also an important factor in creating the light, crispy, chunky texture customers love in our granola! *
Fiber + Sugar
It's also important to consider the other ingredients you'll find in Michele's Granola. The wholesome whole grain oats, almonds and sunflower seeds we bake with not only provide important vitamins and minerals, but they also impact the way our bodies digest sugar: These nutritious ingredients contain soluble and insoluble fiber that slows down our digestion and delays blood sugar rises after we eat.
But Chocolate for Breakfast?
Our chocolatey granola varieties add a delicious crunch and touch of sweetness to breakfast as a topping on your morning oatmeal, or as a cold cereal with your favorite milk and fruit. But you can enjoy those chocolatey, oaty chunks around the clock! Our granola adds the perfect crunch to yogurt, makes a great addition to baked goods (we even have some recipes for you!), or you can snack on it right out of the bag any time of day. 
* Customers seeking a product with no refined sugar may want to try our Toasted Muesli varieties, a loose cereal with all the nutritious ingredients of granola but without refined sugar--just 1/4 teaspoon of pure maple syrup per serving--or added oil.
This post is not intended to be a substitute for professional medical advice. Seek the guidance of your doctor or other qualified health professional with any questions you may have regarding your health or a medical condition.