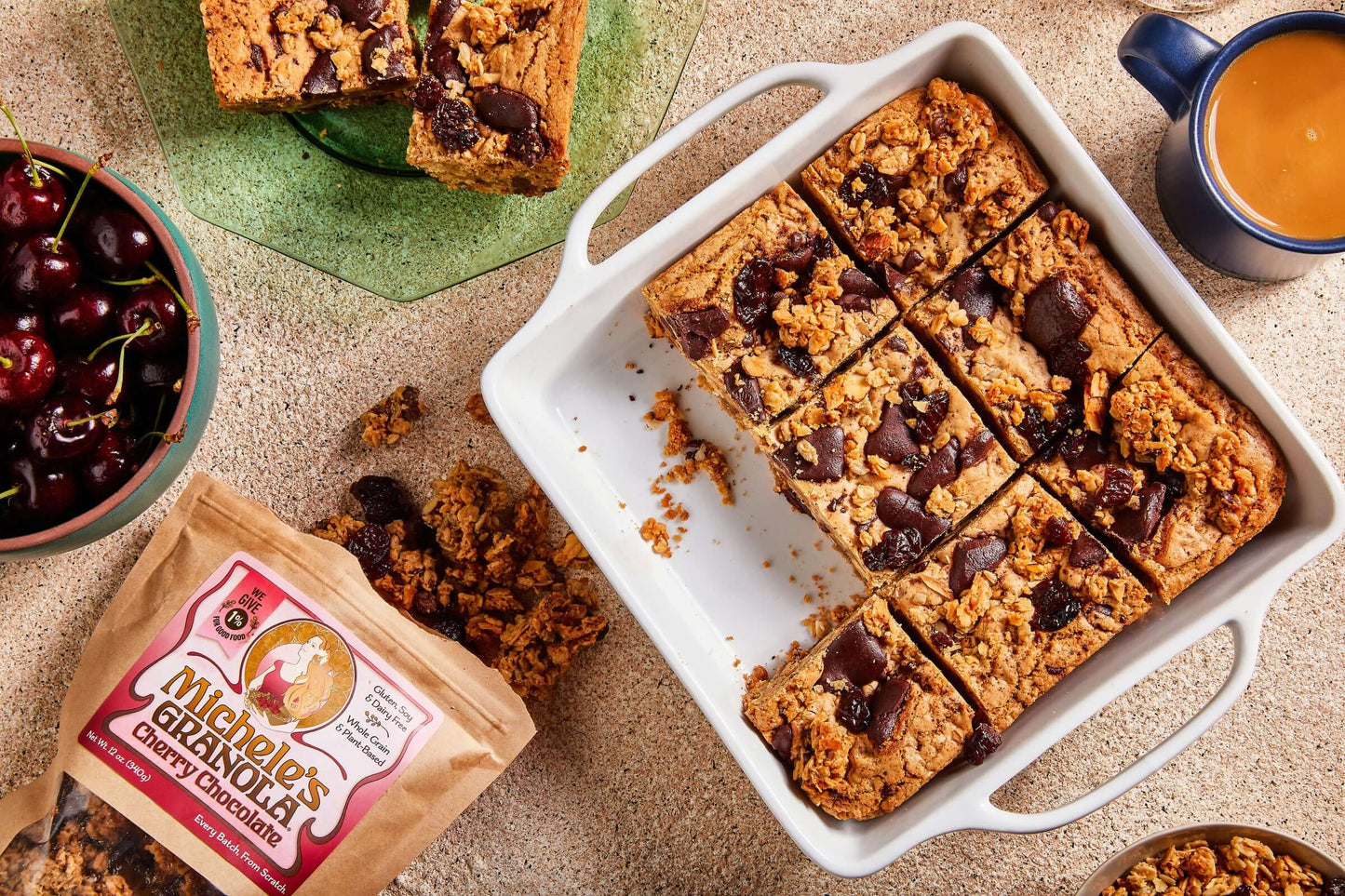 Our Cherry Chocolate Granola and caramelized butter are the magic ingredients in these rich treats! We also used unrefined stone ground Taza Deliciously Dark Chocolate in this recipe for a seriously indulgent chocolatey kick.
Makes 9 nice-sized squares, or 12 smaller two-bite treats

1 ¾ cups all-purpose flour
½ tsp baking soda
14 tbsp butter, salted, divided
½ cup granulated sugar
¾ cup dark brown sugar
½ tsp salt
2 tsp vanilla extract
1 large egg
1 large egg yolk
1 ½ cups plus 2 tbsp Michele's Cherry Chocolate Granola, lightly crumbled
2 bars (each 2.5oz), Taza Chocolate 70% Deliciously Dark Chocolate Bar, 1 ½ oz chopped into chunks for baking, plus 1 ¼ oz reserved for topping
Preheat the oven to 350F. Mix together flour and baking soda in a small bowl. Set aside.

Heat 10 tablespoons butter in a small saucepan over medium-high heat until melted, about 2 minutes. Continue cooking, swirling pan constantly until butter is golden brown and has a nutty aroma, about 3 minutes. Remove butter from heat and transfer to a large heatproof bowl. Stir remaining 4 tablespoons butter into hot butter until completely melted.

Add both sugars, salt and vanilla to the bowl with the butter, and whisk until fully incorporated. Add egg and yolk and whisk until mixture is smooth and glossy.

Stir in flour mixture until just combined. Stir in 1 ½ cups of crumbled granola and 1 ½ oz chopped chocolate.

Spread into a parchment lined 8x8 baking pan and top with remaining 2 tbsp granola and

reserved 1 ¼ oz

chopped chocolate, gently pressing into batter.

Bake for 30-35 minutes or until golden and toothpick entered comes out mostly clean.

Let sit for 10 minutes on a cooling rack, then carefully remove parchment paper and bars from the pan, and let sit on the cooling rack to cool completely.

Cut into squares and enjoy!
* Coupon is valid through 11:59pm Eastern, April 24. Coupon is not valid on Create Your Own Sampler or subscriptions, which are already discounted. You must either click the link above or enter code at checkout to receive the discount.