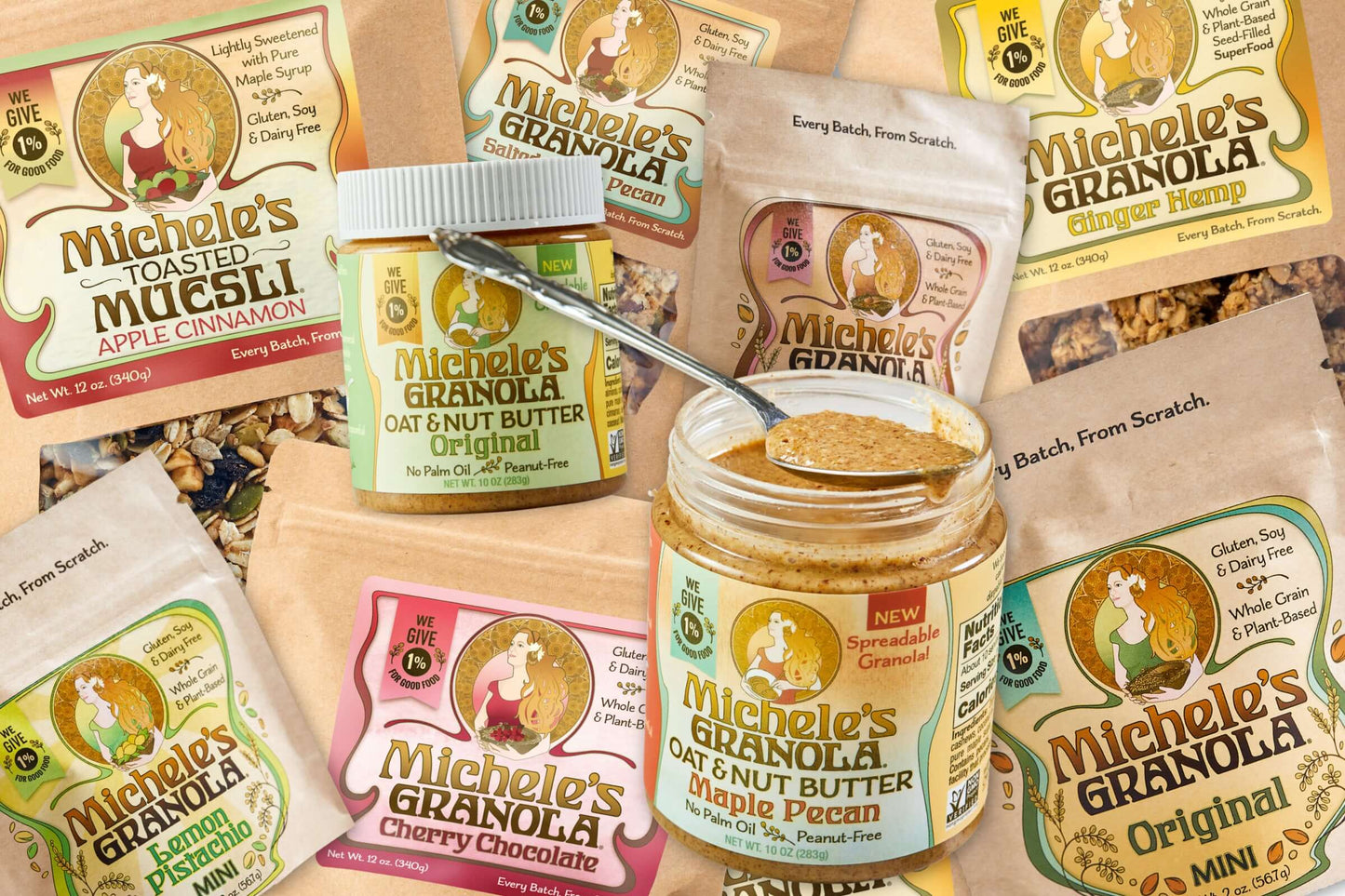 It's a fact: Moms love granola, including grandmoms, aunts, sisters, dog moms, plant moms and every mom-like figure in our lives! Our team carefully considered all the moms on our Mother's Day lists and created a guide to help you shop for them:
Mom with the Chocolate Stash
We see you, mom with the super-secret stash of premium chocolate in the freezer or sneakily hidden behind the beans in the pantry. This mom will love indulging in a bag of Cocoa Chocolate Chip and Cherry Chocolate Granola, loaded with rich vegan chocolate chips.
Foodie Mom
The mom with the adventurous palate who's always ahead of the latest food trend will prize Michele's Original and Maple Pecan Oat & Nut Butter. Become this discerning Mom's favorite by satisfying her exceptional taste. Packed with toasty oats, coconut and premium nuts, these granola butter spreads make a special addition to a charcuterie board, an indulgent fruit dip, and a surprising ingredient in sweet and savory recipes. 100% of foodie moms agree it's also delicious on a spoon right outta the jar. 
The Sweet Yet Salty Mom
There's a certain type of sassy mom who's a bit salty, a bit sweet. Gift her the granola that suits her disposition: Michele's Salted Maple Pecan Granola! You might even order her a bulk bag.
The Super Crunchy Mom
Michele's Toasted Muesli is the perfect choice for this healthy mom, with both varieties of hand-blended oats, nuts, seeds and dried fruit containing just 1/4 teaspoon of added sugar from pure maple syrup, with NO added oil or refined sugar. Muesli is the original "overnight oats," and because our blend is toasted, it also makes a tasty cold cereal, yogurt stir-in and salad topper straight from the bag. 
Trail Mom
The eco-friendly hemp and wholesome variety of seeds in our Ginger Hemp Granola make this blend a natural choice (see what we did there?) for the tree-hugging outdoorsy mom who loves a good hike.
Mom Who Always Has Snacks in Her Bag
Getting hungry while stuck in traffic? Forgot to eat breakfast? Craving a snack after a workout? This mom always has you covered with a stockpile of wholesome, delicious snacks in her bag. Thank this mom with a Mini Variety Pack, featuring four Michele's Granola flavors in a super handy 2oz resealable pouch!
Did we forget anyone on your list? Let us know in the comments!