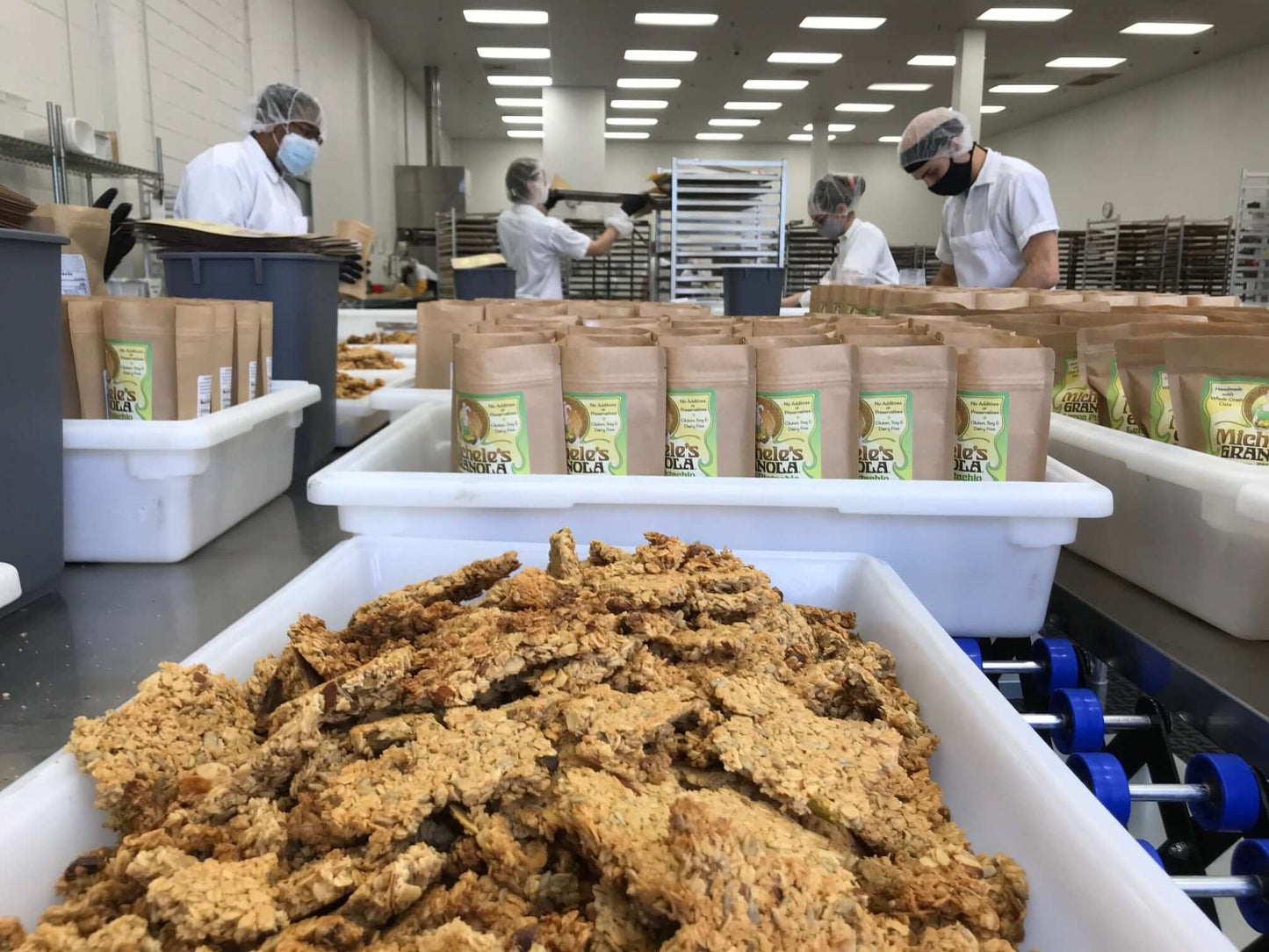 FOR IMMEDIATE RELEASE
Michele's Granola Adds Executive Talent and Expands Facilities
Maryland-based CPG brand executes an aggressive growth plan to meet growing demand for its products as consumer habits continue to trend toward eating at home.
Timonium, Maryland (May 27, 2021) – To meet the unprecedented demand for its handmade granola and muesli cereal, Maryland-based Michele's Granola has increased production by 50% and grown its team significantly, including adding new key executive positions. The brand was on a 20-25% annual growth trajectory before 2019, but experienced double that growth from 2019-2020, accelerated by shifting consumer habits toward eating more at home during the pandemic.
The Consumer Brands Association concludes in a recent study 82% of consumers indicate they will maintain some form of remote work, likely continuing the trend of eating more at home. Even with a tremendous increase in demand, Michele's Granola is committed to making its products by hand in small batches from natural and organic ingredients.
The brand has embarked on expansion of office and warehouse facilities into suites adjacent to its Timonium facility. Currently at 10,500 square feet, the company will expand its footprint to approximately 24,000 square feet over the next nine months. This will allow Michele's to nearly double their production while maintaining its extremely high levels of product quality.
Leading this growth is founder and owner Michele Tsucalas, along with CEO Oliver Buccicone, who became the brand's first CEO in Q4 of 2020. Oliver brings nearly two decades of operations and strategy experience across a variety of industries as well as deep roots in Continuous Improvement. Another recent addition Paul Manu is critical to this growth as the first Director of Operations for the company. Paul joins Michele's with two decades of food manufacturing experience. Paul is charged with helping the company continue its growth and achieving an SQF certification by the end of 2021. The company is seeking talent to join its production team, anticipating expanding staff by another 25-30% by the year end.
Says Buccicone, "It's an honor and an exciting challenge to join a mission-focused brand at a pivotal time of growth. We're grateful that during such an uncertain time, our customers are more loyal to Michele's Granola than ever. Plus we're in a great position to offer good, stable jobs for our community."
####
About Michele's Granola
Since 2006, Michele's Granola has been dedicated to making small batch granola from scratch, prepared fresh daily by hand with simple natural, organic and GMO-free ingredients. The company now produces more than 35,000 pounds of granola weekly, which is distributed to 1,000+ natural food retailers, grocers and food service facilities, and is also available online and on Amazon.com. Michele's is committed to improving nutrition and supporting local food entrepreneurship by donating 1% of all sales to non-profits with a food-based mission www.michelesgranola.com.
Michele's Granola Contact:
Lauren Shafer, Marketing Manager
410-350-0051 x1002