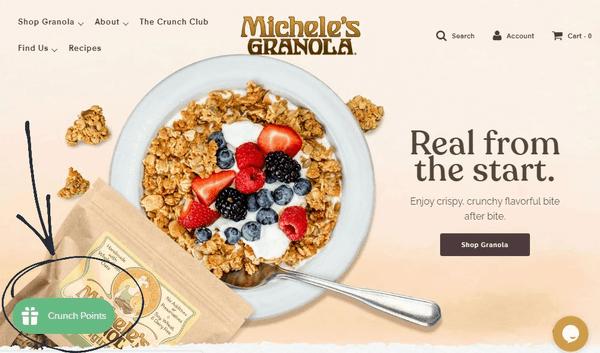 Let us reward you for buying our granola and sharing the word about us: We're excited to announce the launch of Michele's Rewards!
How to join: If you already have an account here on our website, you're automatically enrolled and can begin earning Reward Points.
If you don't have an account, what are you waiting for? Sign up for an account for free and begin raking in rewards! You can sign up and manage your rewards by clicking on the green gift box icon on the bottom left of every page of our website.
Rewards for signing up: Click on the gift box icon to get started, and we'll award you 100 points just for signing up! We'll also grant you a very special birthday gift very year--500 points!--if you click "Ways to Earn" and enter in your birth date.
Rewards for purchases: For every dollar you spend on one-time orders here on our website, we'll give you 3 Reward Points. Every 100 Points earns you a $1 credit to spend on your next order! So for example, a $41.99 5-pound bulk bag will earn you 123 Crunch Points, so you'll have a dollar in your account the next time you visit! (Note you earn Points on products, not on shipping costs.)
Rewards for referrals: Got a friend who'd love Michele's Granola? Log into your account, click the Michele's Rewards icon and scroll down to email your friend your unique referral link. If your friend is a first-time customer and they click your link to make their purchase, they receive a whopping $5 off, and then YOU receive a coupon for $5 off on your next purchase! You can also share your link on social media to get the word out—there's no limit on how many referral rewards you can earn.