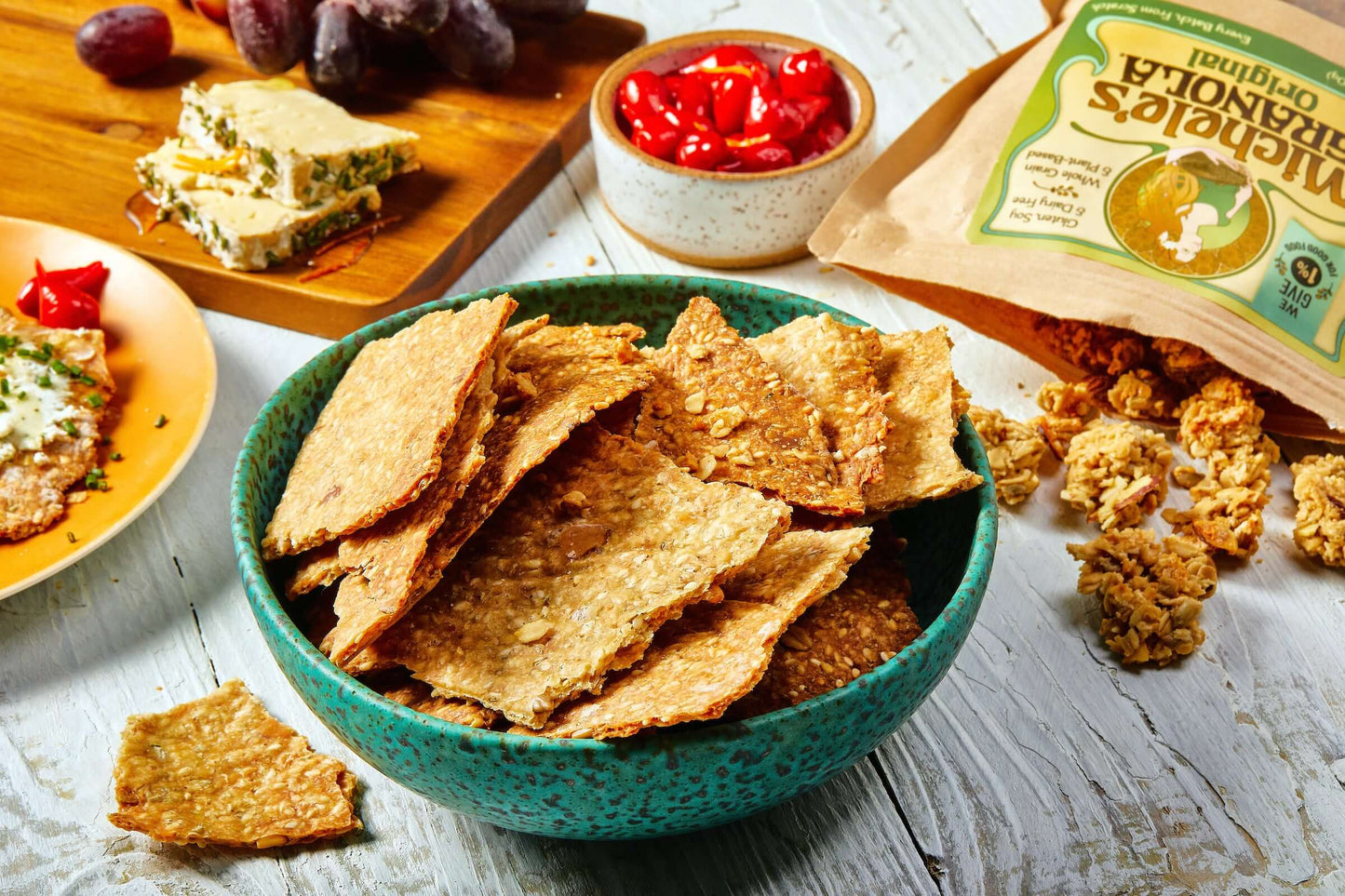 Looking for a unique addition to a cheese or charcuterie board, or a special crunchy snack to share? Bake a batch of these golden flatbread crackers, made with simple ingredients, including savory spices and our Original Granola--packed with almonds and sunflower seeds!
Ingredients
1 ½  cups Michele's Original Granola, lightly crumbled
⅓ cup sesame seeds
1 tbsp crushed rosemary
1 tsp garlic powder
1 tsp salt
2 tbsp oil
1 tbsp maple syrup
1 ½ cups all-purpose flour
Directions
Preheat the oven to 350. Line a cookie sheet with parchment paper and spray with non-stick cooking spray.

Stir together all ingredients except for flour, in a large bowl. Add ¾ cup of warm water. Let sit for 10 minutes as the mixture will absorb water and thicken.

Mix in flour.

Form mixture into 2 balls. Transfer the first one to the prepared baking sheet. Press a second sheet of parchment paper directly on top and, using a rolling pin, flatten to ⅛" thick. Remove the top layer of parchment.

Bake the cracker until golden brown around the edges, 15–20 minutes.
Remove from the oven and carefully take parchment off the baking sheets. Then place a fresh sheet of parchment on a baking sheet, carefully turn the cracker over back onto the baking sheet. Remove top parchment paper. Bake until firm and golden brown around the edges, 15–20 minutes. Repeat with the 2nd ball until they are both baked.

Let cool completely on the baking sheet, then break into pieces. Serve with your favorite conventional or non-dairy cheese!