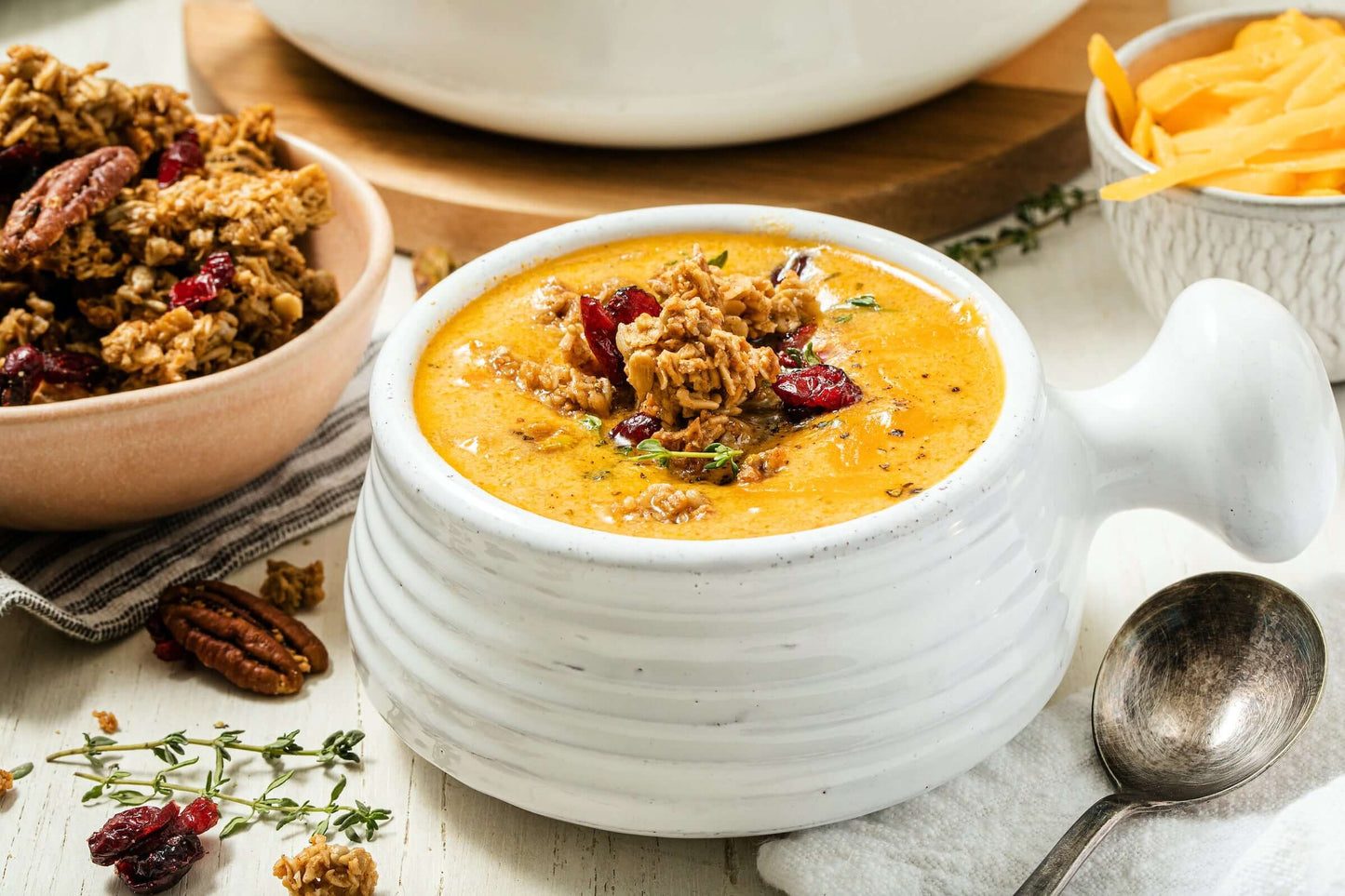 This indulgently rich and creamy soup is packed with bold flavor, balanced with a crunchy topping of our oat-y pecan-filled winter Cranberry Pecan granola, studded with pleasantly tart dried cranberries.
Serves 6
2 tbsp unsalted butter
1 tbsp olive oil
2 shallots, minced
1 jalapeno, seeded, ribbed, and finely chopped
1 red bell pepper, finely chopped
½ tsp garlic powder
3 tsp smoked paprika
1 tsp chili powder
1 tbsp fresh thyme, finely chopped
3 tbsp all purpose flour
2 cups unsalted vegetable stock
12 oz of your favorite beer
2 cups whole milk
3 tsp salt
2 tsp black pepper
1 cup frozen sweet corn
3 cups shredded sharp cheddar cheese, plus more for serving
3 cups shredded smoked gouda cheese, plus more for serving
About 1/4 bag of Michele's Cranberry Pecan Granola
In a large saucepan, melt butter and oil.
Add shallots, jalapeno, bell pepper, garlic powder, smoked paprika, chili powder and thyme. Cook for 5 minutes, or until softened.
Sprinkle flour and constantly whisk for 1 minute.
Whisk in vegetable stock, beer, and milk. Bring to a boil, reduce heat and let simmer for about 20 minutes. Season with salt and pepper.
Add corn and cheeses. Stir until melted and creamy. Adjust salt and pepper to taste.
Ladle into bowls and garnish each bowl with 2 heaping tablespoons of Cranberry Pecan granola and sprinkle with more cheese.