More About Original Oat & Nut Butter
Introducing spreadable granola: We took the ingredients you love in Michele's Original Granola--oats, coconut and almonds, plus we added cashews and a touch of pure maple--and blended them into a spreadable, dippable, spoonable Oat & Nut Butter for you to enjoy in a whole new way!

Note separation is natural. Just give your jar a good stir and store in a cool, dry place. Opened jars stored in this manner have a 6 month shelf life.
Featured Ingredients
Organic gluten-free oats
Cashews
Almonds
Coconut
Pure maple sugar
Not only are these Oat & Nut Butter-filled treats simple to make, they're infinitely more delicious than the ubiquitous store-bought version, and you know exactly what's in them!  
View Details
Is there anything more comforting than a loaf of homemade bread? The all-natural oats, nuts, seeds and raisins in our Toasted Muesli add wonderful texture and wholesome flavor to this toothsome loaf of bread. You'll want to have the help of a stand mixer to bring this dough together.
View Details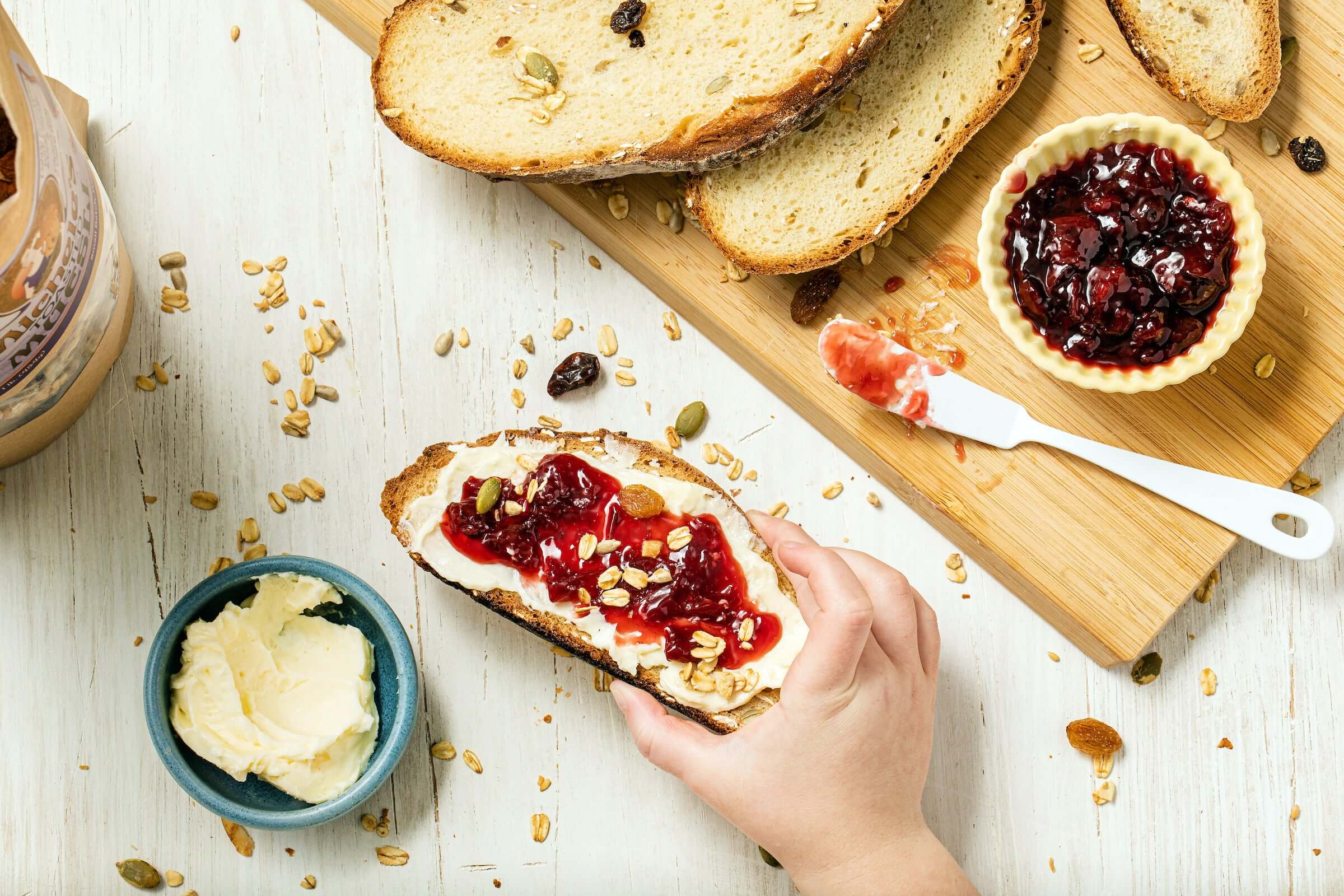 Granola in a jar!
So far I've only had this as a "PB"&J, and I've got to say I'm hooked! It reminds me of a spreadable granola. On one sandwich I even added some toasted muesli to the mix. I will be trying this on many other things, and I will be trying out the Maple Pecan version. The only minor complaint I have is the coconut flavor can be a bit strong. Keep up the great work !
Thank you for sharing how you've been enjoying our Original Oat & Nut Butter, Dan! We hope you'll love trying our Maple Pecan variety, and we look forward to reading about your future creations! Thanks for being a customer! :)
Oat & Nut Butter
Michele"s Oat & Butter Spread is very delicious., also very healthy for you. I enjoy with my yogurt and bananas' I highly recommend it.
Thank you for your review, Carmen! We're looking forward to baking for you again soon! :)
Too much coconut?
I am trying to get away from peanuts and eat more healthy, so I gave your product a try. First it took a little while to stir, but if you stir like you are churning butter it mixes much quicker. I eat and cook with coconut milk and coconut oil a lot, but for some reason the coconut flavor in your product was a little overwhelming overpowering the other flavors. A little too sweet also. But other than that I love it as an alternative to peanut butter. I spread on crackers, waffles, pancakes, and scoop a tsp or two into my oatmeal. I am going to try and add it into one of my cookie recipes and see what happens.
Thanks so much for trying our Oat & Nut Butter and providing this valuable feedback, Tammy!
The BEST
SO delicious I can't stop eating it and already need to buy another! So so good! I eat it on top of smoothies, apples, bananas or even a spoon full! Love it.
Thanks for sharing all the ways you're loving our Oat & Nut Butter, Molly! We're looking forward to sending more your way soon! :)
Very Good Product
I just tried the Nut Butter and loved it. It's great on Banana's, Apple's, and toast. All your Products are fantastic. I'll continue to be a regular Customer. I'm, also, turning others on to your products. Keep up the good work.
We're so happy to read that you loved trying our Oat & Nut Butter, Jac! Thank you for your feedback and for spreading the word! We're looking forward to baking for you again soon.