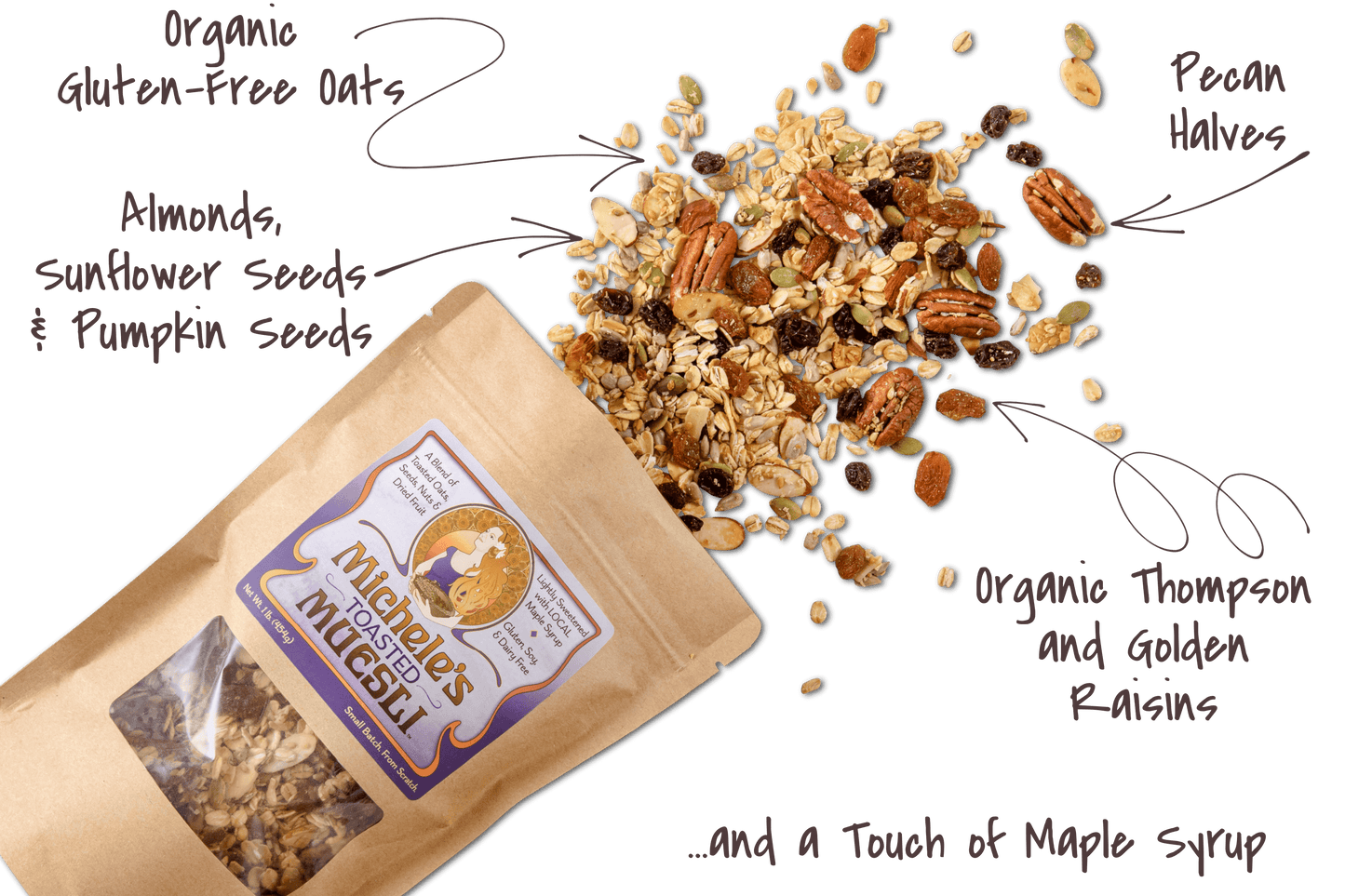 We're sure you've noticed some of our varieties and sizes have been intermittently out of stock as a result of the ubiquitous "supply chain issues" businesses large and small are facing. Fans of our Toasted Muesli have been especially out of luck, with this wholesome, low-in-sugar blend sold out for days at a time.
We've been hard at work in the kitchen, and we want to thank you for your patience:
Take 20% off all sizes of our classic Toasted Muesli while supplies last--no coupon required!
For those of you who are new to muesli, we're happy to answer the most common questions about this special cereal:
What's the difference between muesli and granola?
Muesli contains many of the same ingredients that you love in our granola: Whole grain organic oats, dried fruit, plus a variety of nutritious seeds and nuts.
But where granola is known for its distinctive crunchy chunks (at least ours is!), muesli is a loose cereal. Our granola is sweetened with organic brown sugar, but our muesli contains no refined sugar. It's lightly sweetened with maple syrup--just 1 gram of added sugar per serving! And finally, while our granola is baked with expeller-pressed canola oil, our muesli contains no added oils.
Our Toasted Muesli is unique from other muesli brands in that we gently toast ours, bringing out the nuttiness in the cereal and making it possible to enjoy right out of the bag.
How do you eat Muesli?
There are so many tasty ways...
Enjoy as a cold cereal with your favorite milk or yogurt and fruit
Prepare it as a hot cereal on the stove or microwave with water or milk
Soak it overnight in milk to allow the oats to soften and the flavors to meld, then top with fruit before eating
Top your oatmeal with our Toasted Muesli
Generously sprinkle on your green salad for a crunch and added nutrition.
We also have a few tasty recipes featuring this wholesome blend:
And finally the most common question: How the heck do you pronounce "Muesli?"
It's pronounced "myoos-lee" or "myooz-lee."
We hope you'll give Michele's Toasted Muesli a try!
PS While it's not included in this sale, we also bake an Apple Cinnamon Toasted Muesli that's equally tasty and as low in sugar as our classic recipe.