More About Cinnamon Raisin
Cinnamon Raisin is packed with wholesome walnuts, sweet Thompson raisins, and a swirl of cinnamon, all slow-baked to a crispy golden perfection. This is our granola take on the classic oatmeal raisin cookie. Enjoy with a bowl of almond milk to recreate the tasty comfort of milk and cookies!
Featured Ingredients
Organic gluten-free oats
Walnut halves
Organic seedless raisins
Ground cinnamon
Organic brown sugar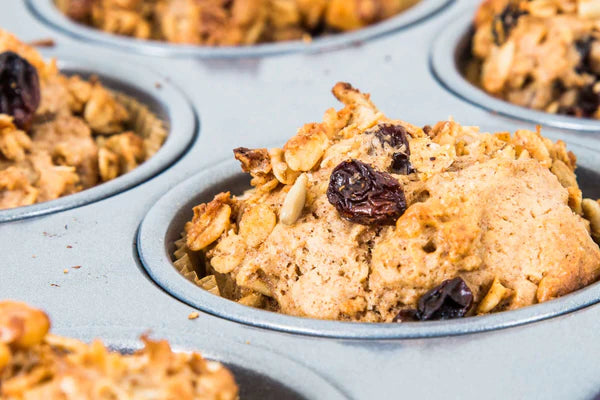 The smell of Cinnamon Raisin granola baking in the Michele's Granola kitchen is one of the best! You can re-create the incredible aroma--or as we call it, granolaroma--in your home kitchen with these delicious muffins.
View Details
This wholesome snack comes together in a snap and is a real crowd pleaser! 3-4 Apples (Any variety of choice!), sliced thinly 1 cup Michele's Cinnamon Raisin Granola (or your favorite Michele's flavor!)
View Details
Classic flavor ..but elevated
This is such a timeless classic…but once you've had Michele's version, you'll never go back to other brands. They're simply not created equal..even on the classic flavors. Lately, I've been so obsessed with other flavors that I've neglected my original favorite. So it was like falling in love all over again. Michele's cinnamon raisin is the GOAT!
Thanks for all the love, Hope! We love baking this special recipe for you! :)
Yummmmm
Tastes like an oatmeal cookie! One of my favs
Delicious!
I had been wanting to try this granola for months but couldn't justify paying $10 shipping on a $20 purchase, so when they offered free shipping a couple of weeks ago I bought some. This granola is so delicious with lot of raisins and walnuts. I love it with milk and on my yogurt. I will be buying it again. Please offer free shipping again. I can't find this flavor in the stores.
Hi there,
We're so happy to read that you're loving our Cinnamon Raisin granola! We love offering our customers opportunities to save, and we hope that you will take advantage of the exclusive deals we're offering this year. Please be sure to follow us via our e-Newsletter, VIP Text Club, Facebook, and Instagram to stay in the know!
Fresh ingredients. Reminds me of oatmeal raisin cookies. I eat this with Greek yogurt at all hours of the day.
So happy to read you're enjoying this oatmeal raisin cookie-inspired granola, MK!
Cinnamon Raisin Granola
This granola is really yummy! I sometimes eat it as a snack but it is also good with Michele's Muesli. Thank you Michele's!.
Thank you for your review, Jean! We're looking forward to baking for you again soon! :)