More About Cinnamon Raisin
Cinnamon Raisin is packed with wholesome walnuts, sweet Thompson raisins, and a swirl of cinnamon, all slow-baked to a crispy golden perfection. This is our granola take on the classic oatmeal raisin cookie. Enjoy with a bowl of almond milk to recreate the tasty comfort of milk and cookies!
Featured Ingredients
Organic gluten-free oats
Walnut halves
Organic seedless raisins
Ground cinnamon
Organic brown sugar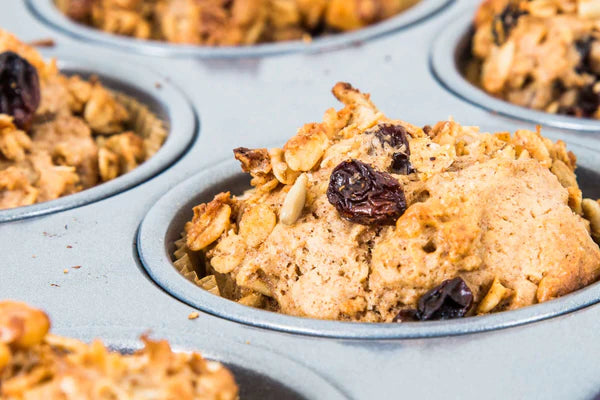 The smell of Cinnamon Raisin granola baking in the Michele's Granola kitchen is one of the best! You can re-create the incredible aroma--or as we call it, granolaroma--in your home kitchen with these delicious muffins.
View Details
This wholesome snack comes together in a snap and is a real crowd pleaser! 3-4 Apples (Any variety of choice!), sliced thinly 1 cup Michele's Cinnamon Raisin Granola (or your favorite Michele's flavor!)
View Details
My new favorite
We love Michele's Granola and the Cinnamon Raisin Granola is our new favorite (before it was pistachio). Thank you for a great product.
Thank you for your kind note, Fanny! We're looking forward to baking for you again soon. :)
Best granola I've ever had!
A staple in our household!
Thank you for your review, Courtney!
Fresh Fresh Fresh!!!
We love the Cinnamon Raisin Granola and have gone through this Order quickly. Yesterday, we ordered the 5 lb bag. We eat it with yogurt or snack on it with a bowl and spoon. We have been buying from Michele's for over 5 years. Thank you for a great product!!!
Thanks so much for your longtime support, Casey! We're looking forward to sending another fresh batch of Cinnamon Raisin Granola your way soon. :)
Love the cinnamon raisin granola!
I usually make our granola but after getting a bag of Michele's granola at Whole Foods while visiting Virginia Beach, we became fans! So, in the heat of this summer, I didn't have to bake our own!
We're so glad you discovered us, Pat! Thanks so much for being a customer! :)
Just excellent!
This is my top fave in Michelle's products followed closely by regular original. I love that these are not loaded with unnecessary salt like most products on the market. I only wish that the Connamon Raisin could be purchased locally at Whole Foods and/or King Sooper (Kroger) so I could save on the shipping. Keep up the great work!
I am also a huge fan of the Fall pumpkin spice granola too!